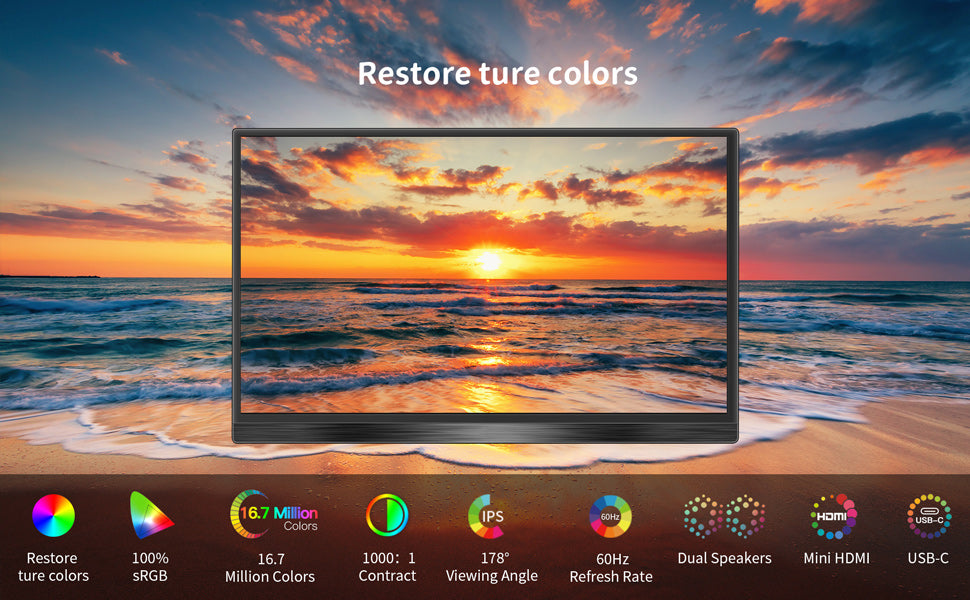 Portable Monitor, Corprit 15.6" 1080P 100% sRGB Portable USB C External Monitor for Laptop, Ultra Slim VESA HDMI Portable Second/Dual/Side Monitor for Mac PC, Portable Gaming Monitor for Xbox PS4. CORPRIT Portable Monitor Solve the Problem of the Dim Screen - Upgraded Brightness to 300cd/m² with a 100% sRGB color gamut delivers 1920*1080 breathtaking viewing and sharp image quality. Let you enjoy the real immersive visual experience.
Upgraded Ports - Re-design it to one side and make it easy to connect, durable, solve the ports loosed problem in the market;
Upgraded The Smart Cover - More stable magnetic smart cover, scratch-proof, high-quality material, fully protect the screen. Two grooves in the base for more viewing angle choosing.
Widely Compatible - CORPRIT portable display comes with 2 Type-c ports and a mini-HDMI port. It is compatible with most Laptops, PC, smartphones, Gaming Devices like ps4, Xbox, switch, etc.
Multi-Mode Choosing - 3 in 1 Display Mode[Duplicate Mode/Extend Mode/Second Screen Mode] & HDR Mode, Scene Mode. CORPRIT monitor offer easily switches the screen to portrait or landscape to improve productivity for viewing the website, doing research, and other online activities.
Much More Thinner, Lighter, High-Quality, Portable for Carrying ON-THE-GO!
CORPRIT Portable Monitor is a Full HD (1920x1080 pixels) 15.6-inch IPS display, with a slim 0.07inch profile and just 1.94 pounds lightweight means it can easily flip it from home computer to work laptop.
Portable Monitor can increase the productivity of your work and extend your gaming screen or phone screen for the best visual experience. If you're on the move a lot it can definitely come in handy.
Use tip:
Phones that do not have a full-featured Type C port require an adapter to connect(iPhone needs lightning to HDMI adapter).
Two Type c port, not all full-featured ports. The bottom of the monitor USB C ports is used for power. Pls, contact our professional support team if you have any questions and problems with our portable monitor.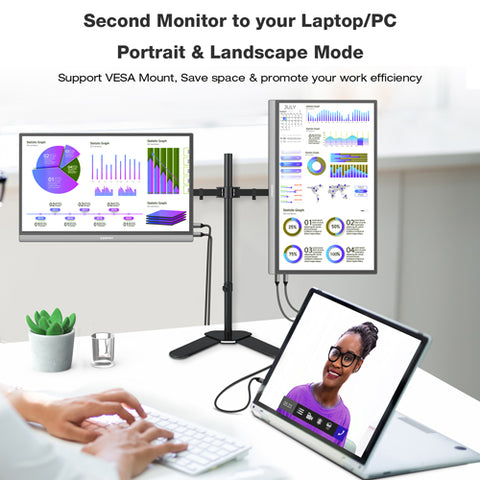 178° IPS Full View Angle
Expansive 178° viewing angles can be achieved by connecting this portable screen. It can provide you with clearer and more realistic color image quality at any angle. Various web pages are seamlessly connected, which greatly improves work efficiency.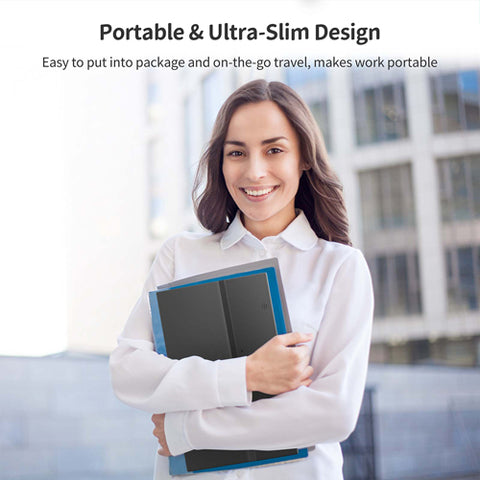 Dual Speaker
The built-in stereo surround dual speakers bring an immersive experience. Let you have a comfortable audio enjoyment anytime, anywhere. You can also add your own speaker for a better sound via 3. 5mm audio input.
Magnetic Detachable Stand Cover Included
Magnetic Smart Cover is made of advanced PU material. Wear-resistant, waterproof and stylish appearance. Can provide effective protection in daily life. The foldable magnetic stand cover can be smoothly adjusted to suit your viewing angle.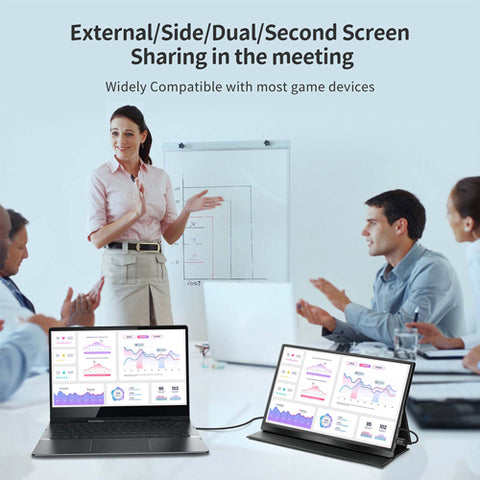 Secondary/ Dual/ Extend Monitor
Are you still worrying about the incompatibility of work and entertainment life? The Corprit portable monitor will be your perfect solution. It can be used as a second screen/extended screen to assist you in processing data reports more accurately and conveniently. At the same time, the multifunctional type-c port can be directly connected to a phone/as the third screen to watch videos and make shopping.
Landscape or Portrait Mode
Corprit monitor offers a built-in option for auto-rotate, allows you to easily switch the screen to portrait or landscape mode. Supports VESA mount can greatly save desktop space. In portrait mode, the monitor immensely enlarges the vertical vision which makes it perfect for viewing websites, typing code, and other online activities.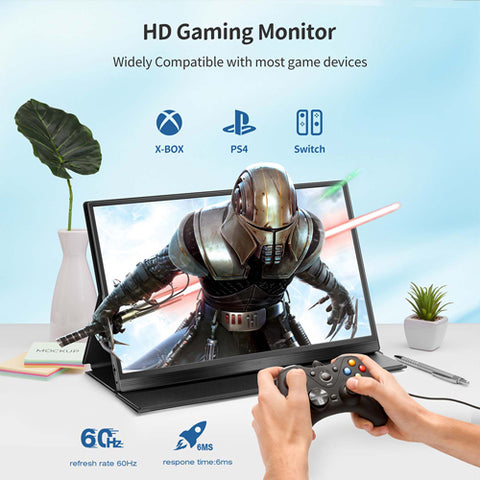 Portable Gaming Monitor
This Portable monitor is a great idea to connect it directly to compatible with PS3 /PS4/ XBOX / Switch / Raspberry pi etc. on a monitor. As a 1080p HD portable monitor, Corprit will bring you an exceptional gaming experience by delivering brilliant colors and vivid images.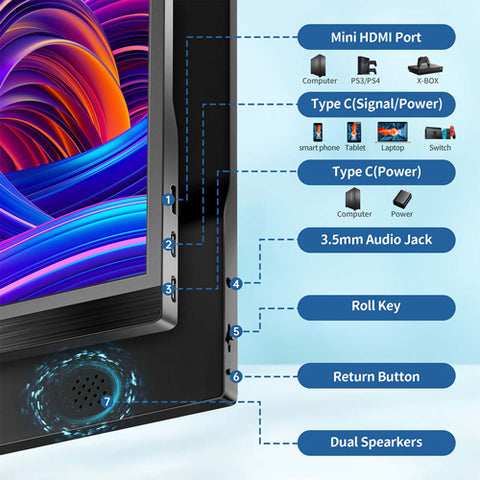 Ultra Vivid Colors
The latest IPS monitor with a 100% sRGB color gamut, 72% NTSC delivers full HD (1980x1080) which supports 16.7 million colors. The contrast ratio is 1000:1. Up to 300cd/m2 brightness. These laptop monitors not only deliver much more vivid images for you but also restore true colors that you haven't seen on other screens before.
Specifification
Product size(mm) : 363*263*6(10)
Color :1080P:16.7M,100%sRGB
Viewing angle : 85/85/85/85 (Typ.)(CR≥10)
Best perspective : Full view
CONTRAST: 1000:1
Input interface : mini HD interface (signal), Type-C interface×2
Output Interface : 3.5mm headphone port
System Requirements : Devices with an HD output interface, computers with full Type C video output capability
Package
1 x Coprit USB-C Portable Display
1 x Mini HDMI to HDMI cable
1 x Type-C to Type-C cable
1 x Type-C to USB-A cable (Power Supply)
1 x Smart Cover
1 x Screen Protector
1 x Adapter
1 x User Guide