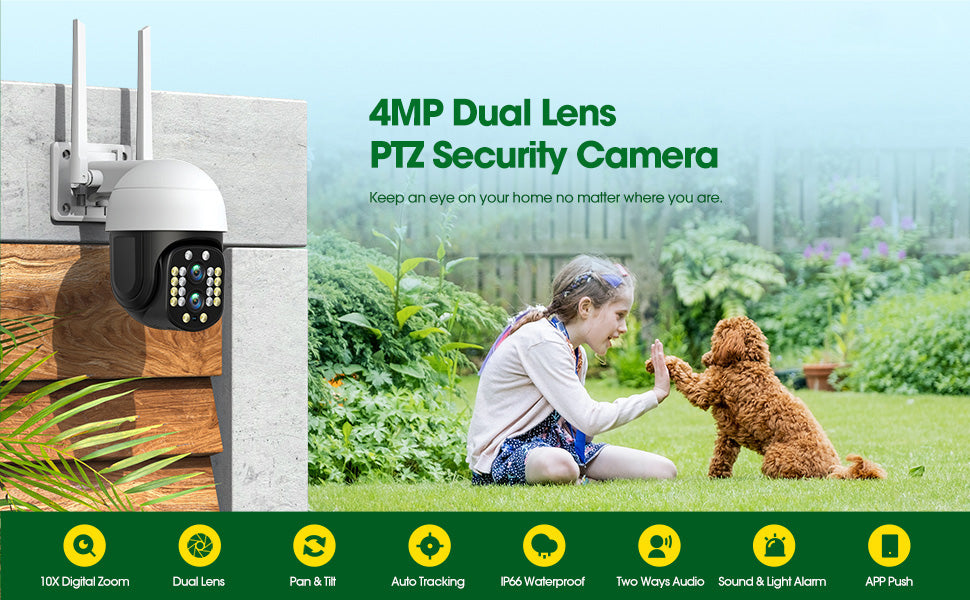 About this item
【4MP Ultra HD image and Super Night Vision】Toguard outdoor security cameras can present super clear video images with 4 megapixels, and the camera has 10pcs floodlights and 10pcs infrared LEDs, which can display super clear images even in extremely dark environments, and you can freely choose infrared (black white image) or full-color (color image) night vision mode in the APP.
【10x hybrid zoom and dual lens】This wifi ptz security camera features a dual-lens design with a short focal lens and a telephoto lens, allowing for a 10x hybrid zoom in the app. Unlike other products that can only switch between fixed zoom and standard images, our home security camera can achieve 1X to 10X step-by-step silky smooth zoom, which can adjust the right focal length according to the distance of the observation point, and can clearly see the license plate or building text from 165 feet away.
【Two-way Audio & 360°Coverage】IP66 waterproof wifi security camera outdoor allows you to talk to your family or visitors through the "IPC360 Home" app, in addition, you can also warn and drive away suspicious people. The wireless ptz camera supports real-time viewing on your cell phone through the app, and you can control the camera to rotate 355° pan and 90° tilt through the app to achieve all-around surveillance without any dead angle.
【Motion Tracking and Alerts】Our wifi outdoor camera supports motion detection and motion tracking. Once motion detection is enabled, the security camera will automatically track and record moving objects and trigger sound and light alerts (you can choose to turn it on or off on the app). When an object movement is detected, the "IPC360 Home" app (Support Android and iOS Devices) will receive an alert message, so you won't miss any important moments.
【IP66 waterproof】IP66 waterproof and dustproof rated design makes this outdoor security camera work in most weather. Whether it's heavy rain, sun or snow, it will give you high definition images. Operating temperature -4°F to 122°F (-20°C to 50°C)
【Optional Cloud & Local Storage】Outdoor wifi ptz camera supports a Micro SD card for 24/7 recording (Up to 128GB, Not Included), you can play back the video anytime, and the wifi camera also supports cloud storage, no need to worry about data loss due to camera or memory card damage, and 30 days free storage for motion detection for each new user. (Note: WiFi connection only supports 2.4GHz WiFi, 5GHz WiFi is not supported.)
【Privacy Protection & Friendly Customer Support】Both cloud and local storage use the latest encryption technology to effectively protect your video data. No one can access your information without your permission. We provide 365 days warranty for a ptz security camera with zoom, you can contact us if you have any questions, and our professional customer service will provide you with solutions as soon as possible.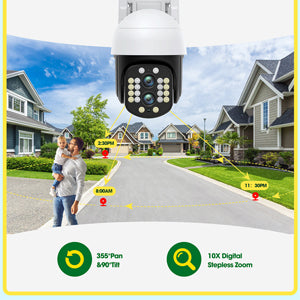 Timed Automatic Rotation
After setting in the APP, the ptz security camera will rotate to the corresponding monitoring point at the set time, and you can add up to 3 points to meet your monitoring needs at different times and protect your home security in all aspects.
IP66 Waterproof
IP66 waterproof and dustproof rating design allows this outdoor security camera to operate well in most weather. Whether it's heavy rain, exposure to the sun or heavy snow, it can present you with high definition images. Operating temperature -4°F to 122°F (-20°C to 50°C)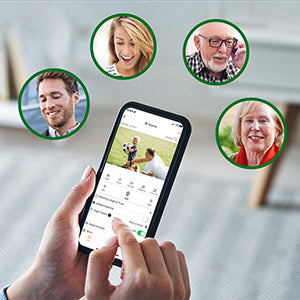 Share to More Family Members
This home outdoor camera supports multiple people watching online at the same time, sharing the device with your family, you can easily share happy times and work together to keep your home safe when there is an alert notification.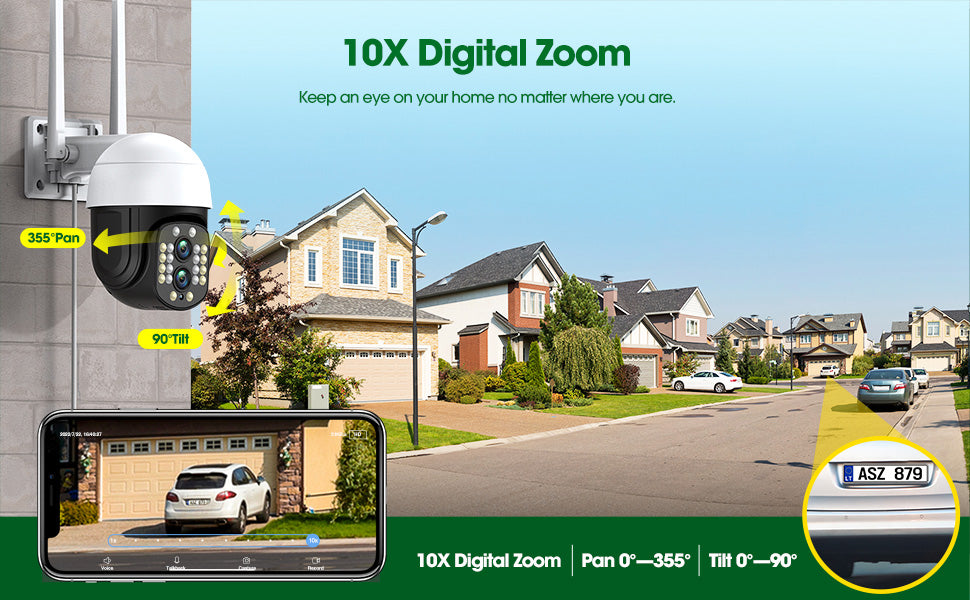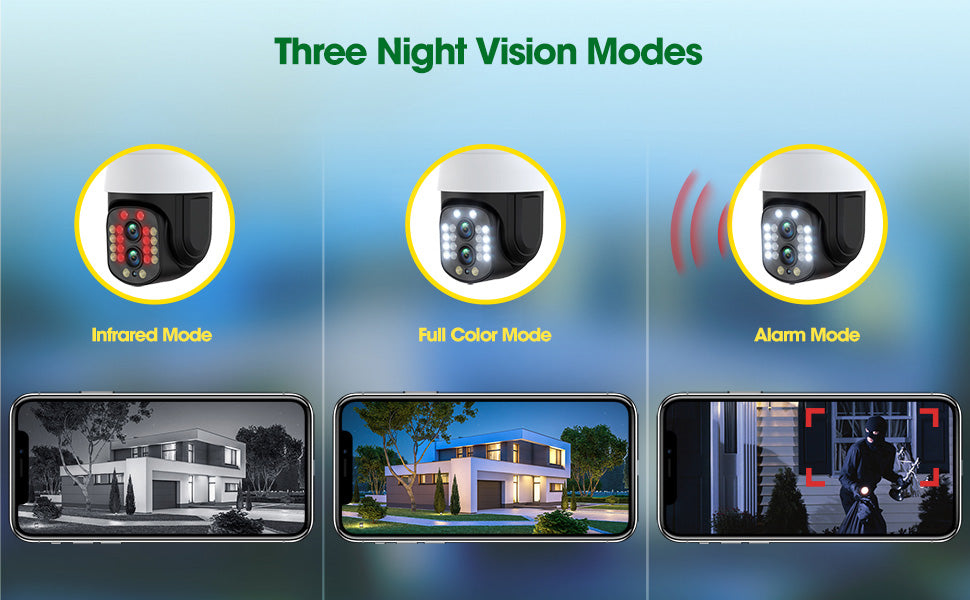 Warm Tips
This wifi security camera supports 2.4GHz wifi connection, but does not support 5GHz wifi connection.
Due to product upgrade, part of the box description for 8x zoom, the actual camera supports 10x zoom.
Whether using wired or wifi connection to the Internet, the camera needs to be connected to the power supply through the power cord.
Floodlight is only effective in night vision mode.
As the APP will continue to iterate and update, the APP function interface to the actual prevail.
Please check the firmware update in the settings for the first time to ensure that it is the latest version.
What's in the box
1x 4MP WIFI PTZ Security Camera
1x Camera Power Adapter
1x RJ45 connector waterproof protective cover
1x Mounting Kit
1x User Manuals