Toguard was founded in 2008 as an idea for creating a range of dash camera ,security camera,IPS Monitor etc for camera lovers. Security cameras have always been its hot sale product,this article introduces the characteristics of the existing W-series security cameras detailedly, so that customers who are interested in buying can learn more.
Toguard W204 Home Security Camera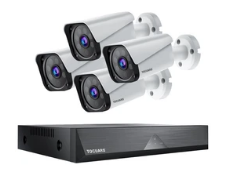 Feature:
⭐6 pcs Leds&3.6 mm Lens
⭐IP66 Weatherproof,-4°F to 122°F
⭐Motion Detection &  Alerts
⭐Customize Privacy Protection

This model comes with an NVR recorder capable of recording up to 8 cameras, 4 cameras are included, 4 pcs of 65FT video/power cables, two power supplies,network cable, power Y adaptor, camera mounting screws, Allen wrench and manual. 
The picture quality is good in daylight and low light situations.
Easy to install,accessing the unit remotely is afforded by the downloadable phone app.
Toguard W208 8CH 1080P Security Camera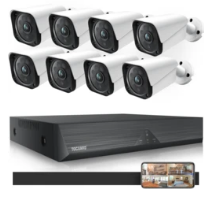 Feature:
⭐7 pcs Leds&3.6 mm Lens
⭐IP66 Weatherproof Outdoor Security Camera
⭐Wide Application Video Surveillance Recording
⭐PC&Moblie Device Support
The camera's appearance is modern and has IR night vision.

It has upgraded from a 4-camera wireless system to this 8-camera system. It's fairly easy to install, worked right out of the box & has agood app to see on a mobile device as well. Overall, security & value for the product.This system can be use for any home or business whether you are there or not.
Toguard W300 Wireless Security Camera System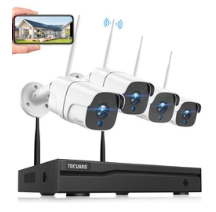 Feature:
⭐Auto Pair,24*7 Recording
⭐Reliable Remote Access
⭐Wall or Ceiling Mounting
⭐Wireless Connect&Expand up to 8 cameras
The cameras are wireless, so there is no need wire, saving drilling and cost.

Basically only two main connections are needed – network cable IN and HDMI OUT to a monitor. The two antennas serve to capture the signals from the 4 included cameras. The unit takes up to 8 cameras, hence offers plenty of room to expand.

It also incorporates a recording function which can alert you by email, based on the parameters you set etc. In order to access these features, an optional hard drive is required, which can easily be installed and formatted.

The 1080P high definition picture is crystal clear and stable, and the cameras offer night vision.
Toguard W400 1080P Wireless Security Camera System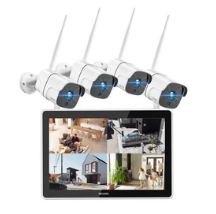 Feature:
⭐8 Channel,1080P/NVR Monitor
⭐Wireless Contact
⭐Auto Infrared Day Night Vision
⭐Monitor Different&Place Simultaneously
It is very convenient that the camera connects to the included display wirelessly.The images are clear,  even distinguish faces. The IR sensors also create good night videos so there is no problem keeping your home monitored during the middle of the night.

There are lots of setting to play around with, can connect the system to the internet and view the footage/live view from anywhere on your phone.

The antenna on each camera actually rotates 360 degrees so, for anyone worrying about the camera not fitting in a corner or something like that, you do not have to worry since you can point the antenna in any direction.
Toguard W504 5MP PoE Home Security Camera System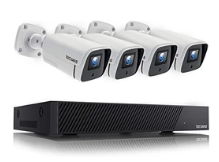 Feature:
⭐Easy Plug PoE System
⭐5MP HD & Night Vision Security Camera System
⭐Stable Wiring and Digital Signal & Plug and Play
⭐Smart Motion Detection
Superb quality recording day and night.

It can configure an app and can watch the camera feed live from anywhere.

You can extend this setup up to 9 cameras;The interface has HDMI and VGA output both to connect to the TV or pc monitor.

Easy to see recordings playback and take backup on USB or any other media.

Also this camera has motion sensors to detect the movement around and start recording immediately. All these can be configured in software pre installed in setup box. For remote viewing you must need internet connection and DCHP.
Decades of customer feedback and market demand have shown that security cameras are useful for criminal records. For example, the alarm function can easily scare off intruders. The above cameras basically have infrared night vision functions and can record during day and night. Therefore, if you are looking for a reassuring product for your home or company, you might consider it.