Corprit Portable Monitor, 15.6 inch 1080P FHD USB C Monitor with Type-C HDMI DP IPS Display, External Secondary Display for PC Mac Laptop Phone Tablet Portable Gaming Monitor for Switch Xbox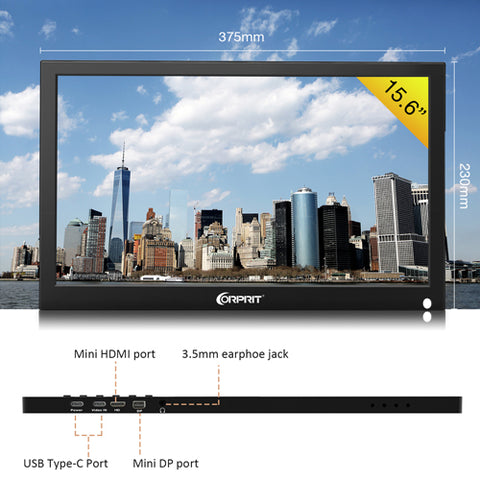 Stunning HD Quality
Corprit portable monitor is featured with a 15.6-inch Full HD (1920 x 1080) advanced IPS display, 16: 9 aspect ratio, 16.7 million colors supported, up to 250cd/m2 brightness, 178-degree viewing angle, which delivers stunning FHD quality and sharp and vibrant display colors without color difference.
Plug and Play Portability
Corprit portable monitor is ready to go to work as soon as you are, with plug and play capabilities and in some cases additional Type-C/Mini HDMI/Mini DP ports that enable the monitor to work with phones, tablets, laptops, PCs, TVs, and gaming systems. Plus, it's designed for easy travel, with each monitor boasting a slim lightweight design, a 15.6-inch screen and a smart protector case, which is easy to throw in your bag and go.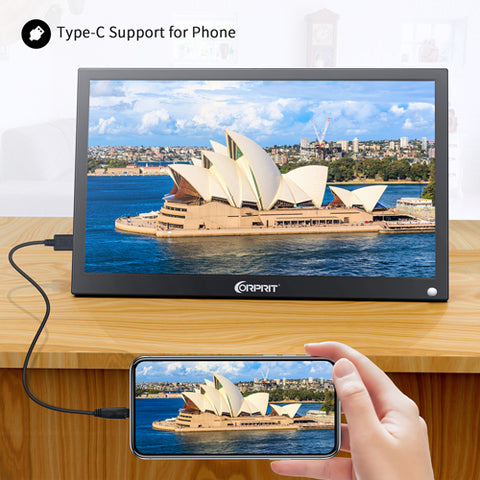 Extend your Smartphone
Corprit portable monitor can be connected with your Type-c smartphone directly using a USB-C to USB-C cable as an extended monitor to caste photos/videos/social media to a larger screen to enjoy watching, and use your phone as your computer to play your presentation when you're on a business trip or on the go. ( iOS system iPhone needs a Lightning to HDMI adapter)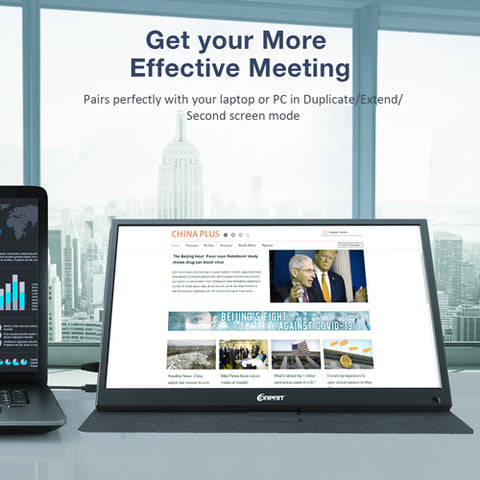 Extend your Laptop and PC
Corprit portable monitor can be connected easily with your laptop and PC using a USB-C to USB-C cable, or a mini HDMI/DP to HDMI/DP cable. Using it as an extra monitor to share your presentation when meeting, as a primary monitor with a spare PC, as a second (sometimes even a third) screen for work purposes in your offices or when you work from home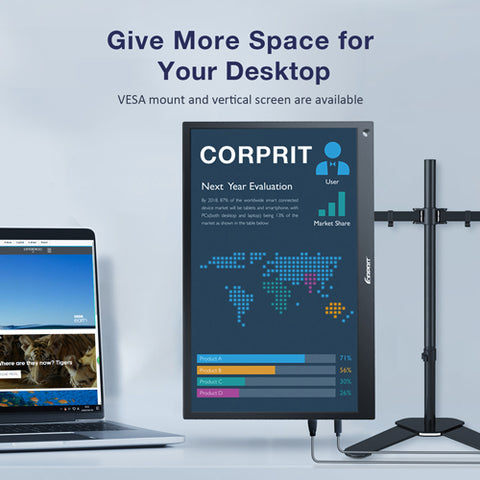 Portrait & Landscape mode
Corprit portable monitor has the ability to be displayed in landscape or portrait mode, a feature make it ideal for presentations and as an addition to your everyday monitor. Portrait mode acts as the perfect complement to a primary monitor for anyone who always likes to have instant messaging systems like Slack on display. Landscape mode is preferable for video streaming or during presentations in Excel or displaying new website designs.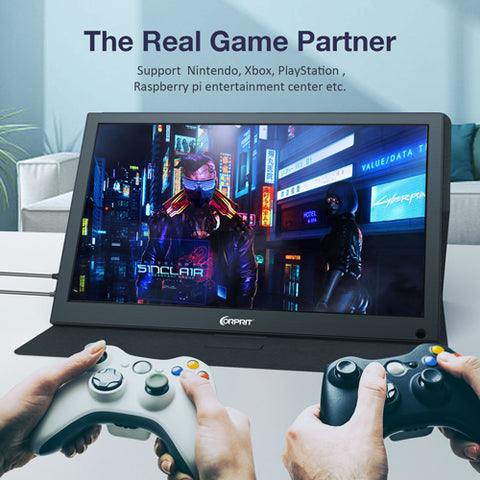 Extra Gaming Monitor
Corprit portable monitor is a great ideal to be an entertainment monitor for gaming on a bigger screen on a business trip, travel, or home entertainment. You can connect it directly to your Phones, Xbox/PS4/Switches, or raspberry pi entertainment center when you're at home or traveling as an extra gaming monitor to improve viewing experience to enjoy watching.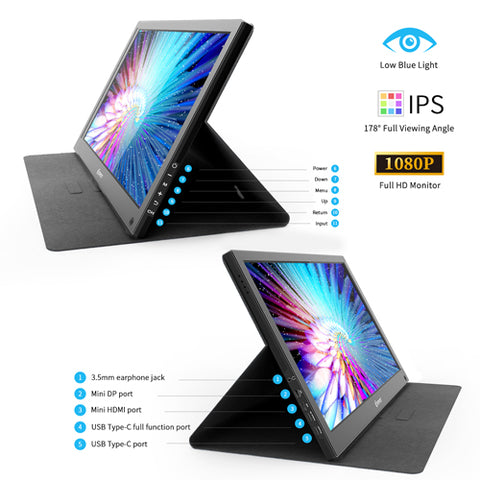 Removable Case Stand
Corprit portable monitor comes with original durable removable PU leather protector case, which is strong enough to fold into 3 different positions to work as a stand. You can remove the bolt on the backside and hung this monitor using a monitor desk mount stand to give you more space for your desktop. (The diameter of the hole is 70mm)
Specifications:
Screen Size: 15.6 inch
Panel Type: IPS
Resolution:1920*1080
Aspect Ratio: 16:9
Contrast Ratio:1000:1
Brightness: 250cd/m2
Display color: 16.7 millions
Refresh rate: 60 Hz
Speaker: Dual stereo speaker (1 W*2)
Input: Type-C, mini HDMI, mini DP
Warm Tips
Please DO NOT use any Quick Charging Adapter when connecting an external power supply.
Please check whether the Type C of your laptop is a full-featured Type C port. If it is just a Type C for charging, it will not be available. 
iOS system Apple iPhone needs a Lightning to HDMI adapter to mirror.
Some computers have low power USB ports. Don't forget to connect an external power supply of 5V/2A.
This portable monitor isn't equipped with built-in battery.
This portable monitor doesn't have Touch screen functions.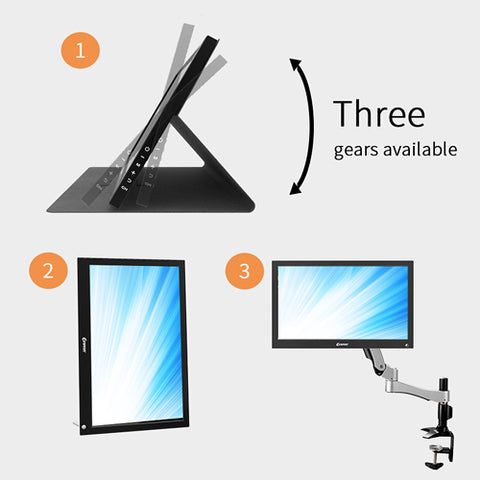 Packing List
1 x Corprit 15.6" portable monitor
1 x USB Type-C power cable
1 x Type-C to Type-C cable
1 x Mini HDMI to HDMI cable
How to adjust the display?
Backlight: adjust to 80
Brightness: adjust to 60
Contrast: adjust to 69
Sharpness: adjust to 3