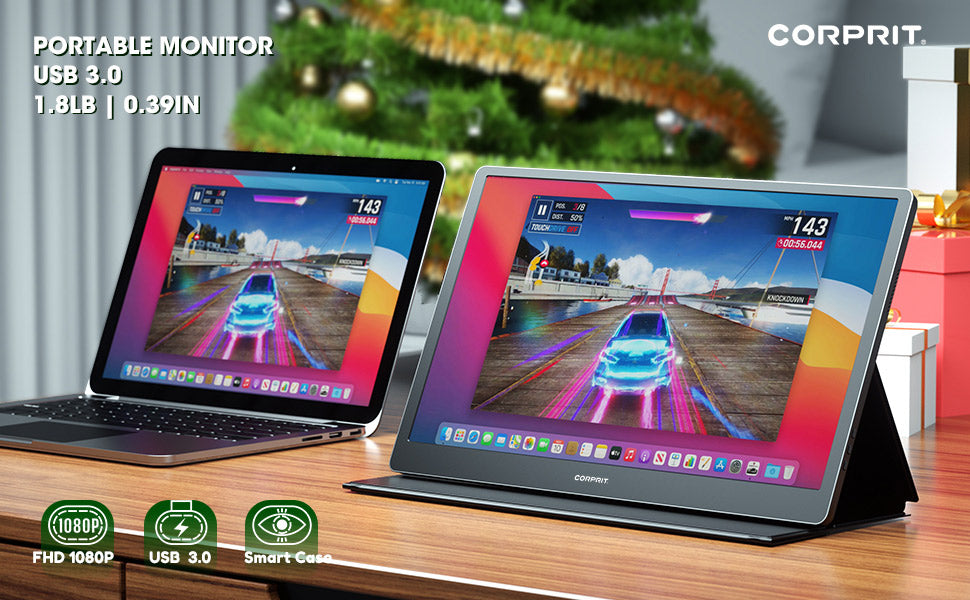 What should you look for?
This 15.6-inch portable monitor features a mixed-signal solution that supports power and video delivery and is compatible with USB 3.0 port laptops or smartphones.
This USB 3.0 single solution portable monitor allows you to extend the view from your laptop/phone anytime, anywhere.
This portable monitor also features a mini HDMI port and USB 3.0 port that can be used as a second monitor for most devices such as laptops, PCs, MacBooks, and phones, etc. This will greatly improve your productivity and visual experience, and is also suitable for designers/photographers/computer engineers to extend their screens while working.
This 1080p laptop monitor features excellent 100% sRGB color rendering, fast refresh rate (60Hz), and responsiveness (25ms) for clearer, smoother, and better performance in multi-work, gaming, and everyday use. Portable screen brightness of 300cd/m2 reduces the damage caused by blue light radiation.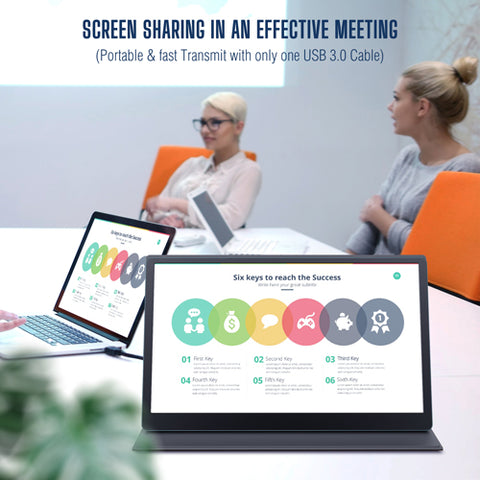 Mini-port HDMI and USB 3.0
The Corprit 15.6-inch portable monitor comes with Mini HDMI and USB3.0 ports that are compatible with most devices. If your phone or other device (without HDMI or USB 3.0 output) requires a compatible monitor, you can easily purchase adapters to pair them.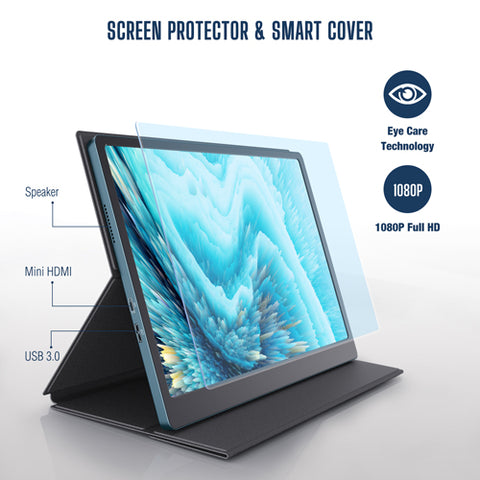 Strobe-Free and Eye-Protective
Corprit portable monitors feature low blue light technology that reduces flicker for a comfortable viewing experience. This technology helps minimize eye strain and other damaging conditions, especially when you spend long hours in front of the screen watching your favorite videos.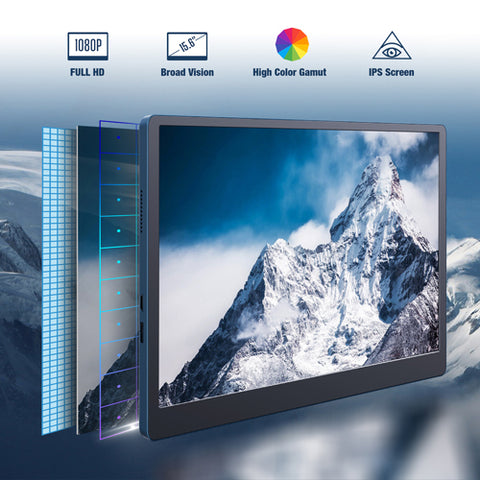 Visual Clear Angle de vision large de 178°
The Corprit D157 portable monitor captures a 178° viewing angle for high-quality viewing, even when sharing the monitor with multiple people. If you enjoy watching movies and playing games, this external monitor will greatly refresh your experience.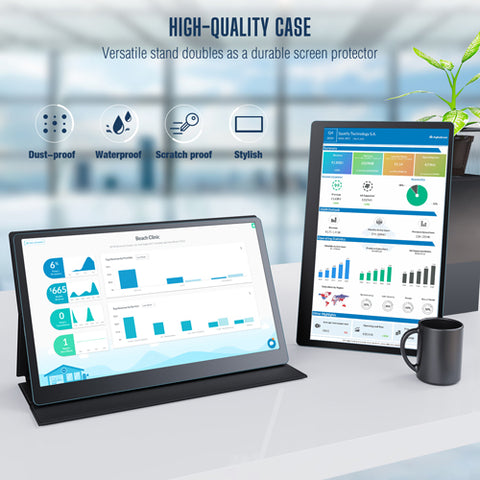 Landscape or portrait mode
You can easily switch the screen to portrait or landscape mode. In portrait mode, the monitor greatly expands the vertical field of view, perfect for viewing websites, typing code, and other online activities.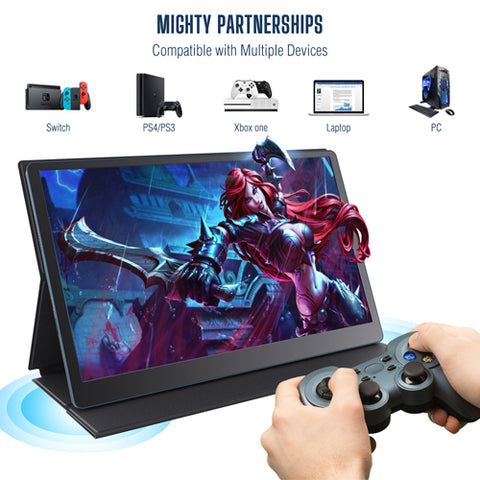 A true playmate
When you're at home or traveling, it's a great idea to connect your portable monitor directly to your phone, Xbox/PS4/Switches or Raspberry Pi entertainment center as an additional gaming monitor to enhance the viewing experience and have fun watching.
Dual Immersive Stereo Speakers
A Corprit portable display with dual built-in speakers provides excellent sound quality and clarity and brings an engaging home theater experience to your home. Plus, you'll enjoy smooth, clear sound while you play games.
Supported laptop models
APPLE: Macbook12inch, Macbook Pro 2017/2018, Macbook Air 2018, Ipad 2018
Huawei: Matebook, Matebook X, Matebook X Pro, Matebook E Glory
Magicbook
Ml: Air12.5inch, 13.3inch, Pro15.6inch, Gaming Laptop
Lenovo: Yoga5Pro , Thinkpad X1 Carbon2017, Miix720
HP: Pavilion X2, EliteBook Folio G1
DELL: XPS13,XPS15
GOOGLE: ChromeBook Pixels, PieiBook Pen
RAZER: Blade Stealth
MICROSOFT: Surface Book 2
ASUS: Lingyao3, U306, U321 Series, U4100, ROG Series
Gaming Console: All brands PS4/PS3/XBOXONE/SWITCH
Note: PC /LAPTOP /MINI PC /SET-TOP BOX with HDMI output can be directly displayed HDMI cable connection
Specification
Product: D157 multifunctional portable display
Screen: 15.6 inches
Resolution: Native 1920 * 1080
Aspect Ratio: 16:9 wide
Control Version: IPS Full View
Backlight: W-LED USB 3.0: for video input and built-in power supply for video input power supply when connected to HDMI
MiniHDMI: for video and audio input
USB 3.0 mode: Windows PC and MAC PC only.
HDMI mode: Compatible with standard HDMI output media devices.
Features
Screen size: 15.6 inches
Panel Type: TN
Case material: Aluminum metal
Resolution: 1920*1080
Response time: 25ms
Brightness: 300cd/m2
Contrast ratio: 1000:1
Widescreen: Yes
Black
Backlight: LED backlight
Multi-interface:  HDMI/5V USB 3.0
Screen ratio: 16:9
Speakers: Two built-in 1.5W cavity speakers
Package.
1*screen;
1*protective case;
1*USB3.0.
1*HDMI,
1*adapter,
1*manual