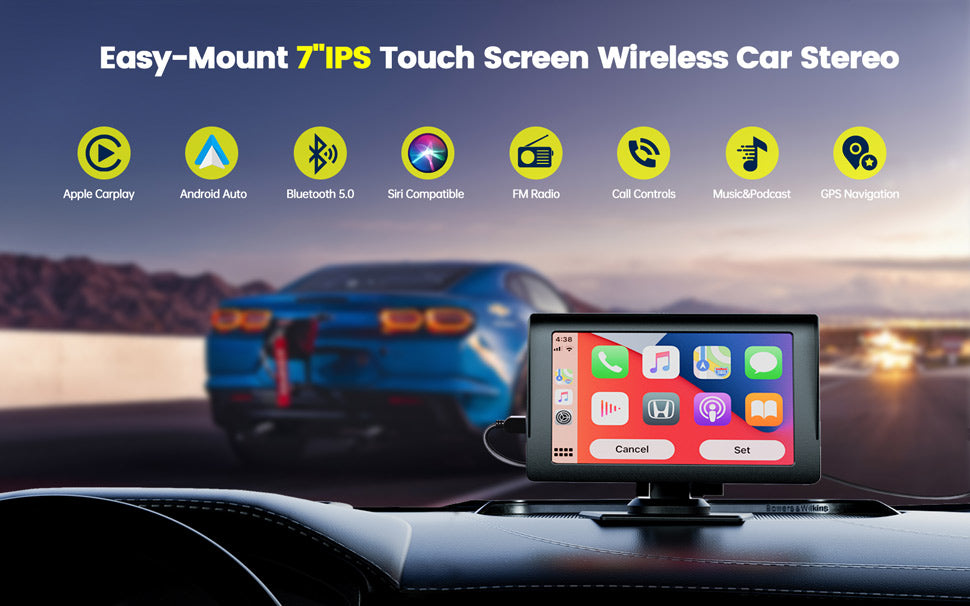 About this item
【CARPLAY & ANDROID CAR】This in-dash car radio is compatible with Car Play and Android car for auto-play functions. You can access your iPhone functions via voice control or touch screen such as music, map navigation, voicemail, calls, notifications, messages and more. Carplay is a safer way to use your phones in the car.
【Bluetooth and external anti-noise microphone】: this car radio with Bluetooth allows wireless audio streaming and hands-free audio; upgrade Bluetooth 5.1 ensures clearer and more stable audio streaming. No more annoying phone calls. Car Bluetooth stereo with built-in clear microphone and external anti-noise microphone for clear and comfortable phone calls. Answer calls while leaving your hands free for absolutely safe driving manoeuvres.
【Smart display】: connect wirelessly to CarPlay and Android car to place all the best features of your smartphone in a clean, safe and user-friendly touch screen that is securely mounted on the dashboard of your vehicle. Manage navigation, messages, phone calls, music, SiriusXM and more wireless. You can even connect the Google and Siri assistants of your device to control Carplay and Andriod car receiver.
【Voice contro】l: uses your smartphone's AI assistant wirelessly to make calls and play your favourite music without taking a look off the road. The Intellidash has built-in speakers and an FM transmitter that allows you to transfer your music from your phone to your car speakers via the radio.
【Easy installation】: the included suction mount secures the carplay to your dashboard or windscreen and can be easily removed and stored when not in use. Comes with a shock absorbing gel strip that you can place under the carplay to protect against rattling and contact with your dashboard.
【Collar Style】: Wing Collar
【Material】Plastic
New Upgrade Car Stereo with Bluetooth—Most Powerful and Affordable Car Audio Receivers
Carplay and Android Auto: Take calls, listen to music, real-time navigation, and more.
Bluetooth Feature: Support Bluetooth music and hands-free calls.
Voice Controls: Support Apple Siri and Android voice control.
Easy to Install: 5 minutes to do, no skills are required.
Wide Application: Supports12-24V cars and trucks.
FM Transmitting: Connect into car audio by FM transmitting sounds.
AUX Output: Support AUX port transmission.
Three Audio Modes: Local Speaker, AUX, FM
Why Choose Toguard Wireless Carplay & Android Auto Car Stereo?
-A great solution to not having Apple CarPlay in an older vehicle.
-Portable Wireless Apple Carplay and Android Auto are easy to install, saving you money and time.
-The one good is you can move from car to car.
-Great alternative for expensive car radio with Wireless Carplay.
-We will share the firmware upgrade service and actively work on software.
-Product Provides 1 month free returns and 12 month repair.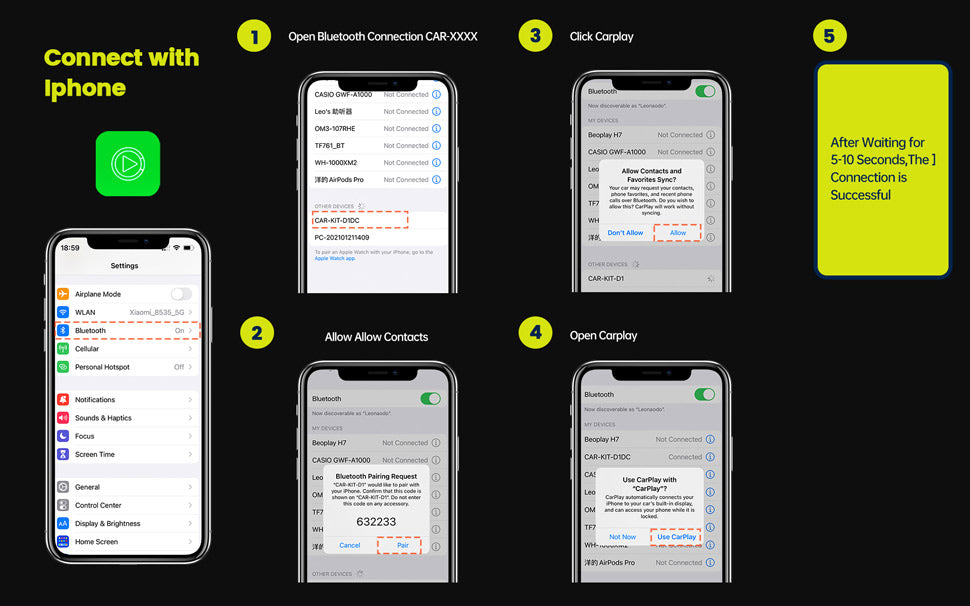 Warm Tips:
1.Because the output current is unstable when the car starting,please turn off the FM before stopping the car,otherwise the FM will make noise when you starting the car again.
2.When you use the FM to connect the carplay,please don't use the same frequency as the broadcast, otherwise the carplay will be frequency bumping and no sound. you can use the AUX cable to connect the carplay, which can effectively solve this problem.
3.After our research,it will affect some functions of the carplay and reduce the customer's experience when the carplay is equipped with a camera,so we remove the camera function to bring you the most extreme service.
4.After connection to the Carplay/Android Auto, please wait for 10-20 seconds,and then the system will Auto Connect the your phone.
5.Before connecting again, please turn on Bluetooth and WIFI,the system will auto connection your mobile phone.
6.Please according our suggested to connect the power circuit, and avoid interference when the machine is star
Package
1 x 7 Inch AHD Monitor
1 x Cigarette Lighter power
1 x AUX Cable
1 x Suction Cup Bracket & Desktop Bracket
1 x Manual