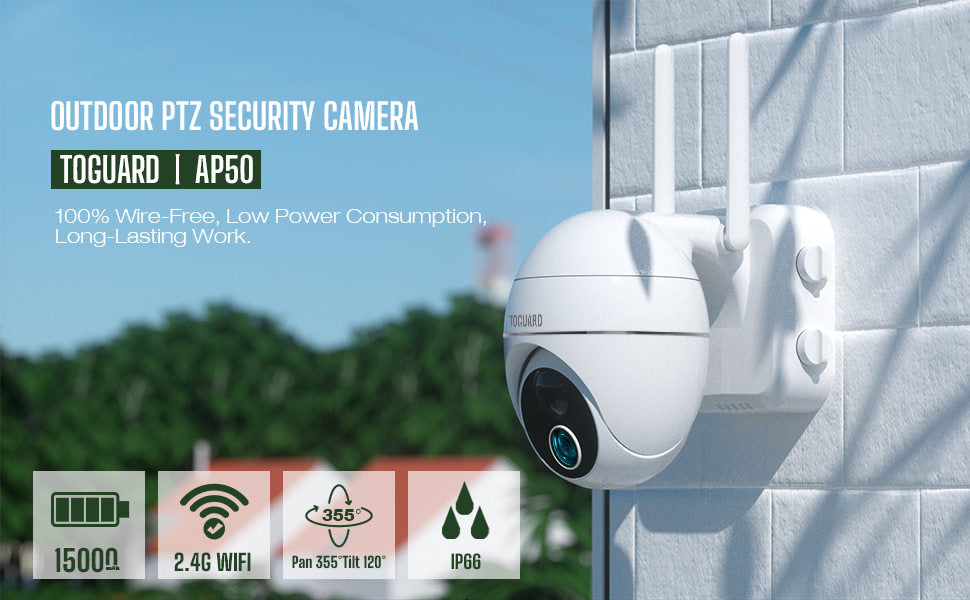 About this item
 【355°Pan 120°Tilt and 4X Zoom】The PTZ WiFi camera outdoor can rotate its head in 355°horizontal and 120°vertical to provide range ultra-wide view angle monitor. You can control the angle of the security camera on the app. You can also zoom in and out through the app on your phone bringing the far away up close.
【Full HD Video & Clear Night Vision】With Full HD 1920*1080P resolution and 4 infrared LEDs, you can view clear images remotely in real-time via the App within 50ft/15m even in the pitch dark. (Image at night is
black and white, color during the day) The wireless security cameras are IP66 weatherproof design, and keep working well through any weather from temperatures from -4°F~122°F(-20℃~50℃).
【Battery Powered &100% WIRE-FREE】The Battery-powered security camera wireless is equipped with rechargeable batteries, assumed 15 times wake up per day it can last for4-6 months with one full charge.No need for power cords and wiring hassles, super easy to setup. Its dual 4dbi antennas help get a more stable WiFi connection, are easily installed anywhere, and are very reliable. (ONLY connect to 2.4G WiFi, NOT SUPPORT 5GHz WiFi)
【 2-Way Talk &Instant Alert to Phone 】 Built-in Noise reduction microphone & speaker, interaction with your families becomes a breeze! Equipped upgraded PIR sensor and adjustable sensitivity, when it is triggered by thefts, the wireless camera will send instant push alerts and save videos automatically. (Support SHARE outdoor security cameras with your family)
 【Safe SD Card/Cloud Storage & Advanced Conding】Battery Powered Wireless Camera support encrypted memory card storage (Max. 128GB SD Card, NOT INCLUDED), and AWS service cloud storage (free trial for first 7 days). 
TOGUARD home security camera is the first PTZ wireless outdoor security camera with 15000mAh rechargeable battery, low power consumption, AP50 wireless security camera can work continuously for more than 40 days on a full charge. 2.4G WiFi connection is more convenient, allowing you to get rid of the cable and network cable, dismantling easily. It also allows you to control the camera lens from your cell phone to rotate 120 degrees up and down and 355 degrees left and right, to fundamentally monitor every corner of your home, without dead ends. Suspicious behavior can not be hidden. (Most other PT cameras only rotate 90 degrees up and down)
See what you like from every angle and keep your home under control. 
Supports video playback, motion detection, and APP alerts.
Night vision, waterproof and 1080P image sensor allows you to watch clearer and more stunning images and videos at night even in the rain.
Smart security camera system for your home. Automatic
video recording so you can watch videos on your phone anytime. You can also share fun things with other family and friends.

(Note: AP50 outdoor security camera does not include solar panel)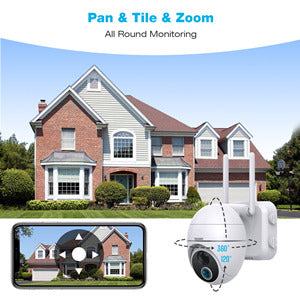 Pan355° and Tilt120° Outdoor PTZ Security Cameras
Outdoor PTZ security cameras provide 120° vertical rotation range and 355° horizontal rotation range, greatly reducing the blind spot in the field of view and protecting your family more comprehensively.And you can control the security camera's gimbal via mobile app to freely change the angle of the lens according to your needs.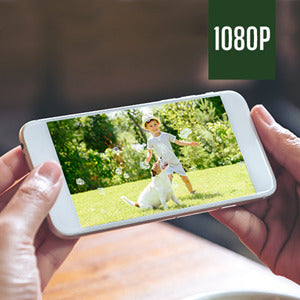 HD video image and APP control
1080P resolution so you won't miss any details, whether it's photos or videos, monitoring your home, farm, yard, etc. Protect you and your family's safety at all times. APP control is more convenient (APP is CloudEdge), APP is free, first time there is smart guide to connect WiFi camera, more user-friendly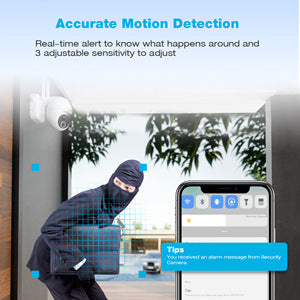 Instant alerts from the app
AP50 outdoor security camera can be used with Cloud app. Receive alarm messages, record pictures and video information, adjust AP50 setting information, very smart and easy to use.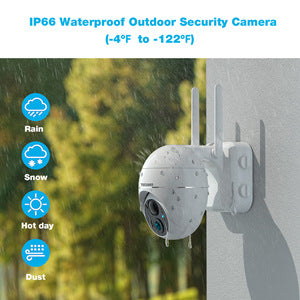 IP66 Waterproof
IP66 waterproof rating allows the camera to work in any weather (sunny, rainy, -20°C ~ 50°C). Our cameras have been tested to withstand harsh weather. Rain, snow and sun.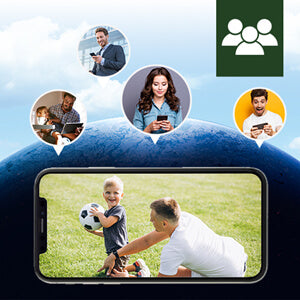 Real-time remote multi-user display
Security cameras support remote viewing by multiple users. You can make it work through our "Cloud" app. It's easy to read and download, and you can capture images manually for excellent protection.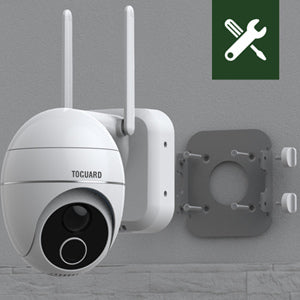 Easy Installation with AP50
The first time you install it, you'll need to punch holes in the wall to secure the camera, but when you want to remove it later, it's easy. All you need to do is unscrew the thumbscrews around the camera. Very convenient when you want to charge the camera.
Features
Support Android/iOS mobile devices, real-time remote monitoring application: Cloud Edge
Support micro SD card storage (up to 128GB not included in our products) and online storage
Field of view: pan and tilt: 355° horizontal, 120° vertical
Video: 1080p HD, intelligent human recognition, real-time alarms
Features
Audio: loud two-way conversation with noise reduction
Battery: Three batteries, 15,000mAh total (Note: AP50 outdoor security camera does not include solar panels)
Connectivity: camera is suitable for connection to 2.4G Wi-Fi (Note: cannot connect to 5G Wi-Fi)
Operating conditions: -20°C to 50°C (-4°F to 122°F)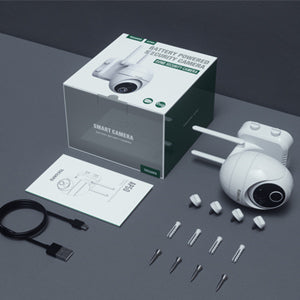 Package
1 * AP50 wireless security camera
4* screws. 1 * user manual ;
1*USB charging cable.
1*camera mounting base
Warm Tips
You can control the camera rotation directly by sliding your finger up, down, left and right on the preview screen, or you can use the PTZ button for control.
Suitable for all adults
Super easy installation for wifi security cameras