About this item
【1080P Dual Camera with Audio For Taxi】: 1080p FHD Dual Dashcam Car Camera for Interior and Cab with advanced Exmor IMX323 sensor simultaneously record the road and the interior of the car, which provide an image / video of high quality. Dual-lens dash cams provide compelling evidence in the event of an accident, and single lenses can record 2160P UHD video, thereby capturing license plates.
【340 ° Wide Angle and 360 ° Rotating Cameras】: Based on each 180 ° rotating dual dash camera, it is more convenient and user-friendly for you to adjust the angel. The two 170 ° wide-angle lenses capture the entire road and the license plates of other cars in front of you from the edge of your windshield and record what is happening in the cabin simultaneously during the day and night. Perfect Car Dual Lens Dash Cams.
【24 Hours Parking Monitor and Motion Detection】: Triggered by parking monitor and motion detection, double dash cameras will automatically turn on and start recording when it detects motion in front of your car or if someone blocks your parked car. Great audio recording with built-in microphone can provide perfect proof if someone damages your car and gives you peace of mind an
【Continuous Loop Recording and G Sensor】: Seamless Loop Recording automatically overwrites the oldest footage and replaces them with newer videos. So you no longer have to worry about running out of storage space on your memory card. The G sensor (Intelligent Recording Emergency Locking System) is a great feature that helps lock and save footage in the event of hard braking or accidental impact.
【Two Ways To Install and Reliable Service】: This dash cam comes with two 3M adhesive stickers and a suction cup. The assembly is therefore very flexible. You can choose the best way to install this camera.
【Multi-function】Contains most functions of the market: Seamless Loop Recording, G-Sensor Lock, 24 Hours Parking Monitor, Motion Detection.
【Display size】: 3.0 inches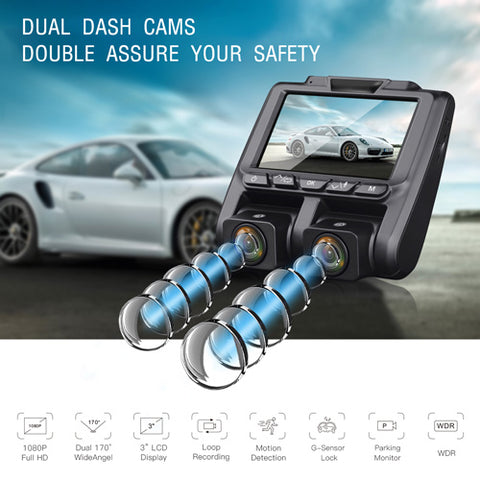 3" Dual 1080P Dash Cam
The CE45 dual dash cam can capture clearer videos and photos even in low-light night conditions. So you will find our camera can captures clear & vivid license plates and road signs. Both FHD 1080P front and cabin in-car dash cameras with Advanced Sony Exmor IMX323 sensor simultaneously record the road and inside the car, which provide sharp high quality video/picture.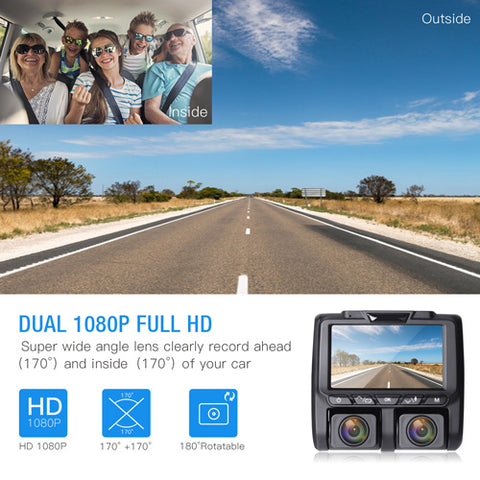 Lens Exchange
Turn on to switch A / B Lens Direction. As default, The A lens is facing backward,used to record inside of the car; The B lens is facing forward,used to record outside of the car, cover the road. If you want to switch the direction, you need to manually switch the lens direction, and then turn on Lens Exchange to correct the image direction.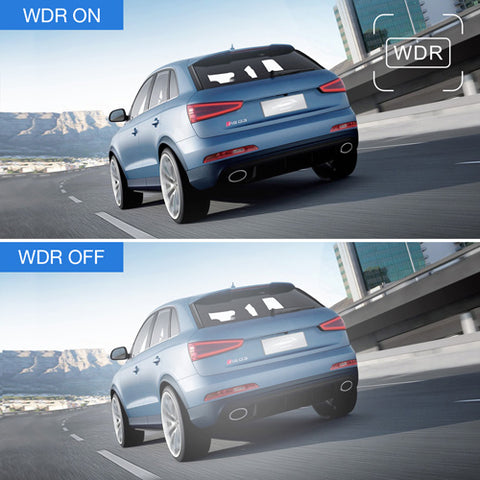 WDR
With the technology of a wide dynamic range built-in, the dual dash cam will automatically optimize video quality with wider light range and image details. It ensures that the footage will not be too bright in sun or too dim in dark surroundings.

Warm Tips:
1.The built-in battery is very small for safety reasons, not designed to work alone, so please keep it connected to external power supply.
2.We recommend using brand Class 10, 16GB-32GB micro SD card. (Note: Please be sure it's a true branded high-speed SD card, SD card not include in the package.)
3.Please format the micro-SD card before the first time use. Format the SD card regularly to prevent "card error" problem.
4.We recommend using our brand DC5V/2.1A car charger and please don't use car charger below DC5V/1.5A. If the camera keep restarting or flashing, please message to our team for help.
5.We suggest not to turn on motion detection features while driving, this function may make recording intermittent. If the video files can be playback normally on the dash cam, but it shows as blank or corrupted on PC, please change a card reader or video player.
6.Dash cam will turn on/off with car engine is on/off, so it will not drain the car battery. (Note: it depends on whether your car still provides power to the cigarette lighter socket when switch off the engine.)
Specification:
USB interface: Mini USB
Video:  MP4
Video Mode: Normal/Loop Record/Motion Detection
Loop Recording: 1/3/5 minutes
Photo Resolution: 12MP/10MP/8MP/5MP/3MP/ VGA
Audio Recording: Built-in Microphone, On/Off optional
External Power Supply: DC5V/2.1A
PC Operation System: Windows7/10 Or Mac
Package
1* Dual Dash Cam
1* 3.5m Car Charger
1* Suction Cup Mount
2* 3M Adhesive Stickers
1* Crowbar
4* Cable Clamp
1* User Manual