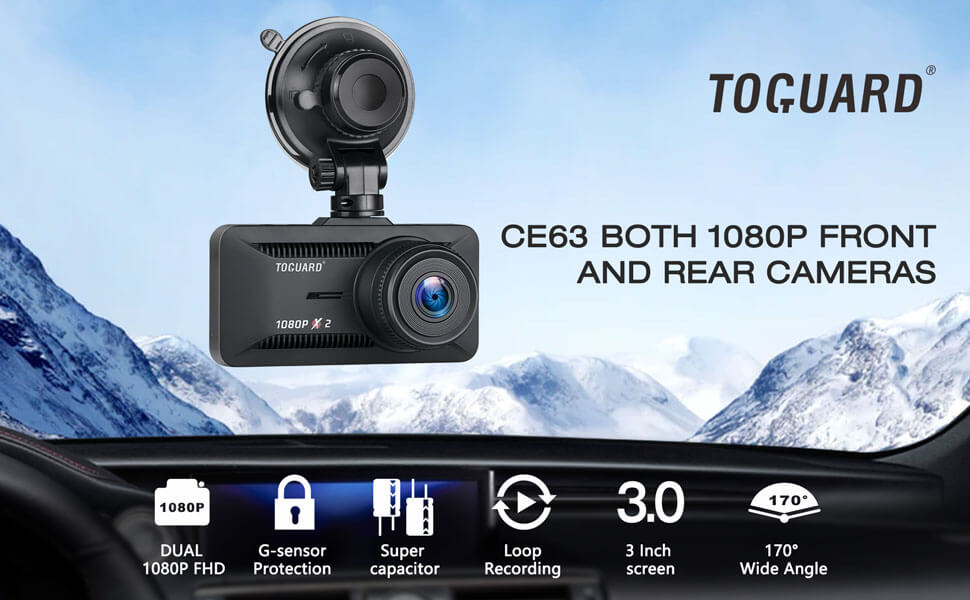 About this item
【1080P Dash Cam & 170°Wide Angle】This 3-inch dash cam is equipped with both 1080P Full HD front and rear cameras, which can clearly capture details even in twilight and night. The dual 170° wide angle of this dash camera helps you eliminate the blind spots of your vision, providing all-around protection with you.
【Loop Recording & G-Sensor】With seamless loop recording, the dual dash cam will automatically overwrite the oldest footage with the newest file to ensure continuous recording. The gravity sensor auto-locks the current video when it detects a sudden collision or shock, which prevents the video from being overwritten.
【Heat Resistant with Supercapacitor】The dual car dash cam is supercapacitor powered instead of lithium batteries, which is built to survive extreme weather conditions from -4°F to 158°F. It's much more secure than others and also gives a longer life span than lithium-ion battery dashcams.
【External GPS Logger & Parking Mode】This car dash camera supports an external GPS logger to enable the dual dash cam to precisely pinpoint the vehicle's location and routes and speed. And it supports 24/7 parking mode as long as you hardwire the 3-inch dashcam with the car's fuse box. (Hardwire kit NOT included.)
【Support 128GB & Reliable Sales Service】This small 1080P dash cam supports a brand Class 10 high-speed SD card,128GB maxim, to provide you flawlessly longer time recording. professional customer service will solve any issue with high-quality support within 24 hours.
【Display size】: 3.0 inches
【Display type】: LCD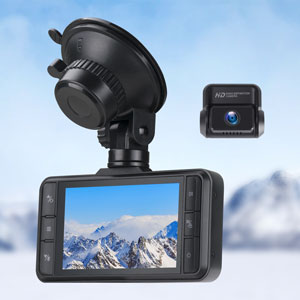 Both 1080P Dash Cam Front and Rear
The dash cam is equipped with both 1080P HD front and rear camera, which can clearly capture the details on the front and rear road and the license plate of cars.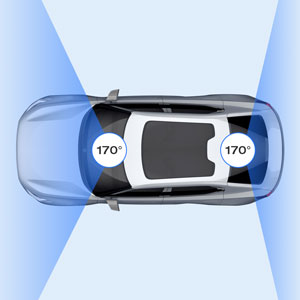 170° Wide Angle Both Cameras
The front and rear camera are both 170° wide angle, which will provide a much wider vision, minimizing blind spots and providing the all-around protection to you.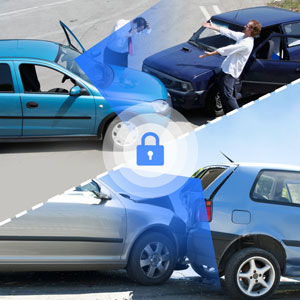 Loop Recording and G-Sensor
The G-Sensor will lock current video when detects a sudden collision to prevents video from being overwritten by loop recording function, which provides important evidence for potential dispute.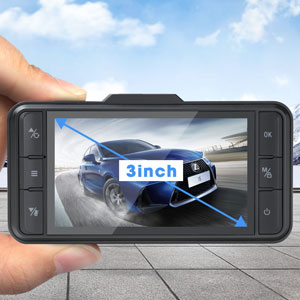 3 Inch IPS Screen
The 3 inch IPS screen makes it clear to provide every detail during your driving tour, and the compact size will not block your view when you are driving. Note: Dash cam powers on and powers off when car engine is on/off.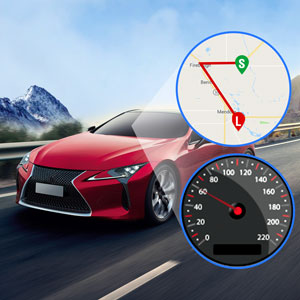 Support Optional GPS(Not included)
Featured with the optional GPS function, which records real time GPS coordinates in the video file. Note: the GPS module is not included, if you need it, please search the asin: B082M7N2L3.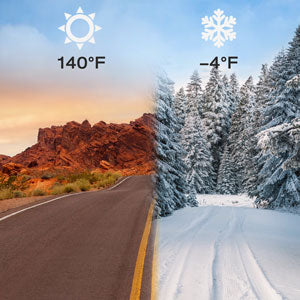 Super Capacitor
Equipped with super capacitor power supply instead of traditional lithium battery, the dash cam has a greater heat & cold endurance and longer lifespan of the dash camera. Note: If you want to realize parking monitor, please ask TOGUARD support team to get hard wire kit.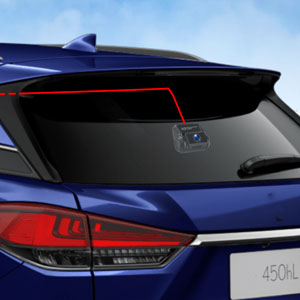 Simple Installation
Just easily need to attach the rear camera to rear windshield through extend the wire inside of the car and no need to drill for the rear camera. Note: The rear camera is not waterproof and needs to be installed inside of the rear windshield.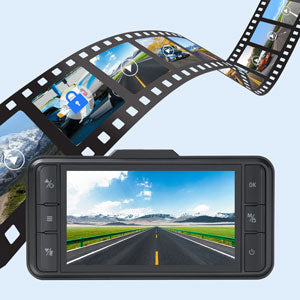 Both 1080P Dual Dash Cam - Capture the Unexpected
Featured with both 1080P and 170° wide angle front and rear cameras, the dash cam will provide the clearest and most comprehensive protection for your driving, and with the super capacitor, the product is more safe and has a greater heat & cold endurance and longer lifetime than cameras with traditional lithium battery.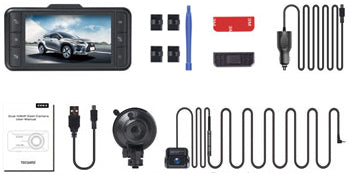 Package Includes
1 x Both 1080P Dual Dash Cam
1 x Rear View Camera
1 x Suction Cup Mount
1 x Car Charger
1 x Mini USB Cable
1 x User Manual
1 x Crowbar
2 x Stickers
4 x Cable Clamps
Specification
Display: 3 inch IPS screen
Lens: 170° front and rear
Front Resolution: 1920*1080P
Rear Resolution: 1920*1080P
Power On Recording: Yes
Power Supply: Super Capacitor
Storage: Up to 128GB
Working Voltage: 5.5V/ 2A
Warm Tips:
Dash cam requires a constant power supply, please plug power lead into cigarette lighter.
Please use a SANDISK brand Class 10, maximum support 128GB.
Please format your SD card on the dash camera before using it.
Please adjust the low sensitivity of G-sensor, otherwise the video file will be easily locked when your car vibrates, which will cause that the SD card is full and stop recording.
If you want the function of Parking Monitor, please contact us.
If you want the GPS module, please contact us.