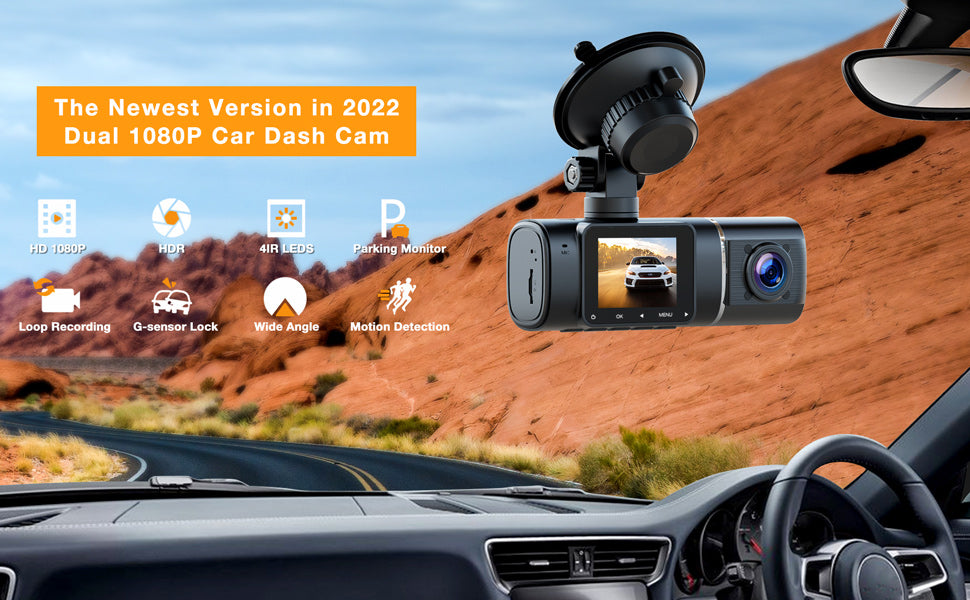 About this item
【Super Infrared Vision & HDR Technology】 The interior facing camera with 4 infrared LED lights and F/1.8 aperture can handle low light conditions and ensure flawless video footage even when the passenger cabin is dark at night. Equipped with HDR technology, the front camera automatically balances the light and dark areas of the video, which provides excellent night vision footage in isolated areas and busy streets.

【FHD 1080P Car Dash Camera】 With a 1.5-inch LCD screen, the 6 layers HD dual lens dash cam simultaneously records at 1920x1080P with 30fps and inside, which provides sharp high-quality videos/images and powerful evidence in case of an accident. Perfect for Taxi drivers or people who need to record both scenery and happy time with your families.

【Hidden Design & Wide Angle Lens】 A well-built elliptical cylinder compact body makes it ideal for discreet recording when you don't want individuals outside to notice your dash cams setup. The 170° wide-angle front lens and 140° cabin lens capture the whole road and license plates in front of you from the edges of your windscreen and simultaneously record what is happening in the cabin during the day and night.



【Loop Recording & Accident Lock】 Continuous loop recording will automatically overwrite the oldest footage, so you don't need to worry about your memory card running out of space. Combined with G-sensor (built-in acceleration collision sensor), the dash camera front and inside will lock the footage to prevent the video from being overwritten when detects a sudden shake/collision, which can be used as evidence and insurance claims during car accidents.
【Parking Monitor for Your Car】Combined with a parking monitor, the car dashboard camera recorder will automatically power on and starts recording when it detects external force, providing you with security every moment.
【Safety Certified & Tested】Strict quality control and have a professional QC team, with CE, FCC, RoHS & UL certificated.
【Solution to Freeze Screen and Buttons】 When the dash cam is recording video, please kindly press the "OK" button to stop the recording then you can use other buttons to set the menu.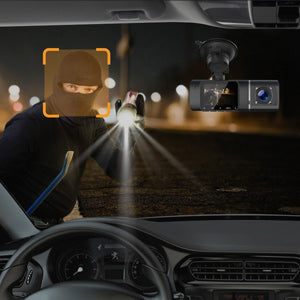 Motion Detection
When an intruder wanders around your car, the dash camera automatically turns on and starts recording during parking. Important Tips: We don't recommend turning on Motion Detection in traffic jams or when driving at a constant speed on a highway. Otherwise, there will be a missing second during the recording.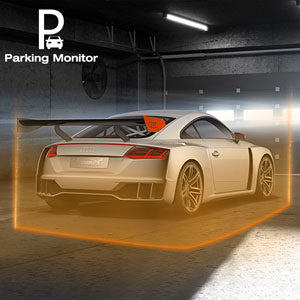 Parking Monitor
The dash camera for the car will automatically power on to record inside and front when detecting a sudden bump or impact to the car, which keeps an extra eye on your car while parked.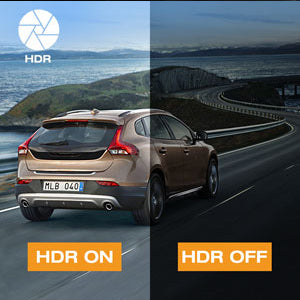 HDR Technology
Equipped with HDR high dynamic image processing technology, the front camera provides great exposure and dynamic range in low light conditions such as driving into the sun or oncoming traffic headlights at night.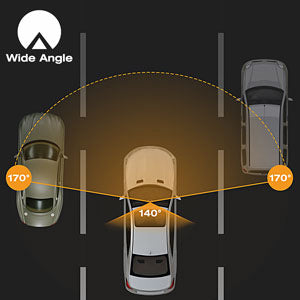 Easy to Install
There is a wide washer type nut where the bracket meets the top of the camera to let you adjust the camera body's up and down angle. And, 360° Rotating Suction Mount and rotatable interior camera let you easy to install.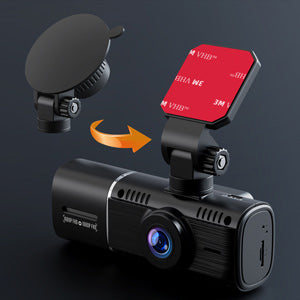 Optional Installation Mount
CE41A car camera comes with 2 mounts: 1x Adhesive Mount and 1x Removable Suction Cup Mount. You can choose what you prefer.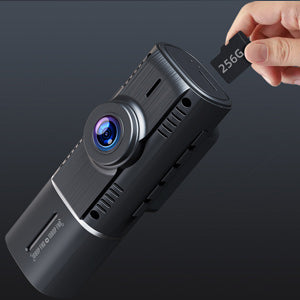 Support 128GB max
The newest CE41A dash cam supports 128GB Max. Please make sure to use a U3 or above high-speed SD card and format it before first use. Tips: SD card is NOT Included.

Why we love this dash cam?
This Toguard CE41A 2-channel dash camera simultaneously records both front and inside at 1920x1080P@30fps, with infrared Night Vision facing camera, continuous Loop Recording, Parking Mode, also, Adhesive mount or removable suction cup mount for easier to set.
Perfect for uber/rideshare/taxi/SUV/Jeep/truck/Lyft driver, or people who need to record both scenery and happy time with your families on a road trip.
Warm Tips:
The internal battery of driving recorder is small capacity for parking monitor only. You need to plug the car charger while using this dash cam.
Please press the OK button to pause the recording first, then press the MENU button to access the setting.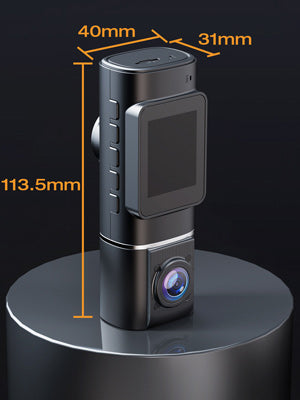 Specification
1.5" LCD video screen
1920x1080P@30fps front camera
1920x1080P@30fps interior camera with Infrared Night Vision
G-sensor for precise auto-lock and record triggers
Built-in 240Am battery to record some minutes after fully charged when the camera is unplugged
Support U3 or above 128GB Micro SD card. (Note: Please format the SD card when first use)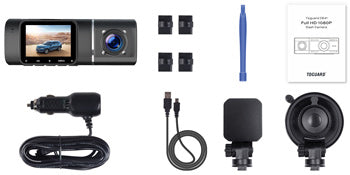 What's in the Box?
1* Car Dash Cam
1* 11.48 Feet Car Charger
1* 2.62 Feet Mini USB Cable
1* Suction Cup Mount and 1* Adhesive Mount
4* Cable Clamps
1* Plastic Crowbar
1* User Manual