Yes, dash camera Reviews are important so you can make an informed decision before buying a dash camera online. I believe you have this question: What should I look for when buying a dash camera? How to choose the right dash camera for you? I believe that after reading this article, you will have enough confidence to choose the right product for your requirements.
What should I look for when buying a dash camera?
A dash camera record is the most powerful evidence of what really happened to you in a car accident. This can save you a lot of time and money. There is no need to argue with other drivers or passersby when you can immediately show who is at fault. Filing an insurance claim also becomes easier because your CarLog video is already in evidence. dash cameras have become an essential car accessory. As a driving aid, parking monitoring, expanded view, reversing assistance and so on greatly improve the safety of driving, so it is very wise to invest in a driving recorder. Before buying the best dash camera, you must know what makes a dash camera the best.
The following is a list of features that can also be used as dash camera buying guid.
Overview of dash camera Features
1.resolution
2.Loop recording
3.Collision sensing
4.Parking monitoring
5.reverse assist
6.Lens angle
7.Lens quality
8.Wide angle
9.H.265
10.Monitor
11.Front and rear dash camear and front and rear in-car 3-channel dash camera
12.WiFi
13.Gps tracking
14.Touch screen
15.Voice
When buying a dash camera, these 15 features should be the focus of your research. Below, we'll go over each of them in detail so you can understand what makes a good dash camera.
Resolution
The first feature to consider is the quality of the lens. Most dash cameras will be classified as "HD cameras". However, there are different levels of HD. The average dash camera resolution is generally 1080p, but Full HD 1920 x 1080 pixel resolution is becoming more and more popular. When buying a dual camera, it is quite common to have a 1080p front camera and a 720p rear camera. More and more 4k dash cameras are now available, so if you want a clear picture, pay attention to the resolution. The higher the resolution you choose, the clearer and more realistic the video will be, and you need to pay attention to buying a high-capacity memory card because the higher the resolution, the more memory space it will take up. You can choose according to your needs.
Loop Recording
Loop recording is becoming a standard feature. With loop recording, your camera will continue to record video even if your memory card is full.
How does this work? All your videos are stored as small video files and include a time stamp. When the memory card is full, the camera will start recording the oldest files on the card.
Auto-Lock for Video Files Auto-Lock is very useful. This feature will automatically lock your newest video files so they will not be deleted.
G-Sensor
The Auto Lock feature, sometimes called the Emergency Lock button, is usually triggered by a motion detector or G-Sensor. The motion detector or gravity sensor will notice any sudden bump or movement automatically recording and saving the emergency video to prevent the video from being overwritten during loop recording.
Parking Monitor
The Park Monitor feature has three sensitivity options (high/medium/low). The dash camera will automatically turn on and take 20 seconds of video, then lock the video when a vibration is detected.
Reverse Assist
When the vehicle is in reverse, the rear view will automatically display a full-screen reverse image with parking guidelines.
Lens angle
The lens angle determines the range of the dash camera. The wider the angle it has, the wider the field of view it covers. For added safety, the best tachographs are at least 120 degrees wide.
Video Quality
The recorder clarity contains daytime and night effects, the effect of good or bad not only need to look at the hardware, but also need software debugging, which image processing chip + image sensor + lens, the three hardware components of the core of the recorder, in addition to software debugging, largely determines the quality of the video. So as far as possible, choose the chip containing the big brands, image processors and lenses.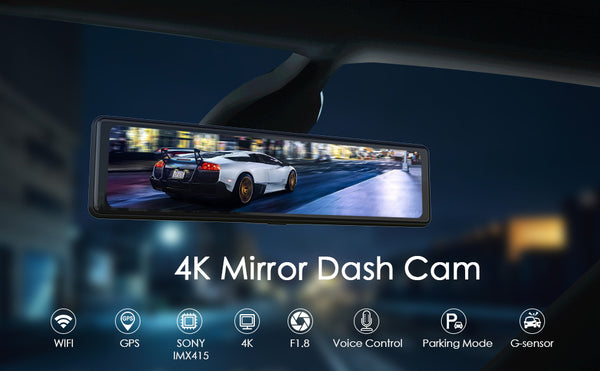 Recommended:
Toguard RM05 front and rear dash camera. It has a top-notch core configuration, anti-glare, super night vision, and support for a variety of features such as touch screen and voice, if you want to choose a powerful dash camera, I believe the RM05 can meet all your needs.
Resolution: 4K 
Sensor: Sony Starvis IMX415
Lens: 99.9% light-transmitting spherical glass lens
Aperture: F1.8
Screen size: 2.5D 12-inch IPS full touch screen
Mounting: Front and rear camera
Angle: 170° and 150° wide angle
Storage: U3 or above Micro SD card, up to 128GB
Features: WiFi, GPS, voice control function, 24h parking monitoring, collision sensing, reverse assist, loop recording, emergency lock.
Night vision
The night vision effect mainly depends on the aperture, with F / value to indicate that the smaller the value, the larger the aperture. f value can not be too small, because too small is easy to cause overexposure during the day and the depth of field will become shorter, far away from the license plate will not see clearly, it is recommended to choose F2.0 or so.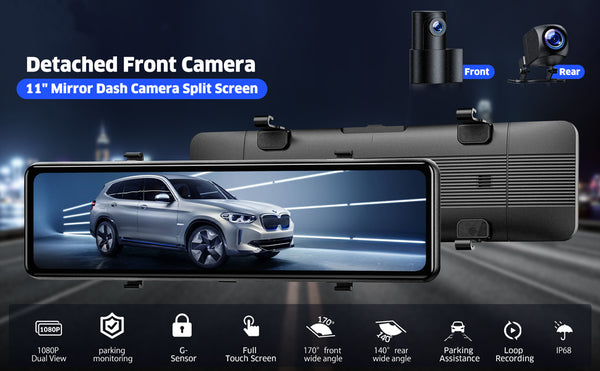 Recommended: Toguard RM02 11'' full touch screen with separate front lens dash camera
Size: 11 inches
Front camera resolution: 1920P * 1080P
Sensor: Sony sensor with WDR technology
Storage: up to 128G SD card support
Other auxiliary functions: touch screen, voice control, GPS, reverse assist, parking monitoring, loop recording and gravity sensing
Memory capacity parameters
Memory cards, as we all know, are mainly used for archiving. The way the dash camera stores video: memory card or mobile digital hard drive to expand the memory.
So, choose the memory capacity of the dash camera = choose the memory card and hard disk. For the purchase of memory cards we should pay attention to the quality and stability, after all, driving in the memory card burned is fatal, the ordinary memory in the high temperature and cold weather will be prone to failure, so try to choose a special memory card for the dash camera. Tip: choose the memory card at the same time remember to look at the recorder can support the maximum memory.
Recommended use:
General family car - 16G or 64G card
Operating car - 64G or 128G card. 
H.265
The biggest benefit of H.265 video encoding is that it can reduce the video memory without changing the clarity. So when you choose a high-resolution dash camera, you can choose a dash camera containing H.265 encoding, which can solve the problem of insufficient memory to a certain extent, and can also speed up the transmission speed of video.
Display
The larger the size of the monitor, the better the quality and effect of the video displayed. But note that the larger the screen is not the better, because there is a possibility that the placement and excessive size lead to the view ready to block, the recommended size should not be larger than 12-inch screen.
Single, dual camera or 3-channel camera
 Which type of dash camera should you buy online: a dash camera with a single camera or a dash camera with a dual camera? Of course, the most effective is a dash camera with dual cameras - one that points forward and one that helps you record from behind (placed in the rear window). There are also 3-channel cameras that are perfect for cab drivers, detecting both inside and outside the car to provide maximum assurance for your personal safety.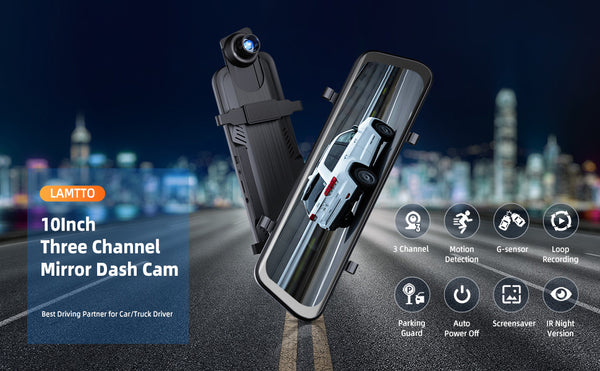 Recommended:
Toguard RM03 3-channel dash camera. Split screen while displaying the front and rear road conditions, but also on the large screen to display the front, inside and rear images respectively, free to choose and drive.
Resolution: 1080P front + 720P inside + 720P rear
Sensor: high-definition streaming technology real-time image transmission
Lens: 2.5D glass
Screen size: 10-inch IPS touch screen
Angle: 170° front + 120° inside + 160°
Storage: U3 or above Micro SD card, up to 128GB
Features: 3-channel, 24h parking monitoring, motion detection, collision sensing, reverse assist, IR night vision
WiFi
WIFI Connect Mobile APP to instantly view and manage the dash camera recordings on your IOS and Android devices. It can view three camera channels in real time, play recorded videos and download/share video files.
GPS 
Another useful feature is GPS recording. With this option, your camera unit can automatically print your GPS location while recording video. In case of an accident, theft or vandalism, you will have evidence of the exact location where the problem occurred.
Touch Screen
The touch screen is more convenient than the traditional button screen and also offers more features that add to the technology as well as the user experience. Touch screens will also become a trend in dash cameras.
Voice
dash camera support voice control function, without hands-on operation, through voice control can complete the command. This is also the coolest feature of the intelligent dash camera. Intelligent and convenient and more secure.
Dash camera more common installation methods
1, snap-on, attached to the rearview mirror, when the mirror adjustment recorder also need to adjust
2, adhesive type, sticky on the surface of objects with good stability, but may leave adhesive marks
3, suction cup type, adsorbed in the glass above, easy to install, but in the case of sun exposure will have the risk of falling off
dash camera wiring methods
1, cigarette lighter, simple connection, but will occupy the cigarette lighter, not beautiful
2, ACC power, the car starts to turn on, turn off the engine, can not use the parking monitoring function
3, often power VCC, so that the dash camera to keep the power state, there will be a battery power loss (Note: connected VCC often power must be paired with a buck link line, when the battery voltage is lower than the starting voltage recorder will automatically shut down to protect the battery, try to choose a special or manufacturer custom wire.)
4, ignition class power, also need to start the car to boot up and run
5, the fuse box to take the power, the alignment hidden beautiful, the insurance piece and grounded, more security.
final 
Now that you have learned about all the features that you must look for in the best dash camera you can get online, your next question is your budget.
Of course, as much as you want to have a dash camera that comes with the latest technology, your budget might be holding you back from buying it. All you have to do is check out all the best ones and then see if your budget can afford the cost. Learn more about dash cameras here.
What About TOGUARD RM05 12″ 4K Front And Rear Dash Camera?
How About The TOGUARD RM03 10'' 3 Channel Touch Screen Mirror Camera
How About Toguard's RM02 11''Adjustable Front And Rear View Mirror Camera