【1080P Hidden Dual Dash cam】The front 1080P and rear 720P cameras simultaneously capture the road front (170°) and rear (140°) in crystal detail. Mini Hidden design can be easily installed on your windscreen for optimal field-of-view, The car camera is equipped with a 21.32ft rear camera and 11.48ft car charger. Suitable for various models.
【WDR Technology & Excellent Videos/Pictures】Equipped with F2.0 aperture, 6-layer glass lens, and powerful WDR technology of the car camera, especially in low light and strong light, which can better optimize the videos and pictures taken by a dashcam. Better preserve evidence and beauty.
【Loop Recording & Emergency Accident Locks】When the card is full, seamless loop recording overwrites the previous film with new content, built-in G-Sensor automatically detects a sudden collision and immediately saves the relevant footage and locks it to Lock file. More Protect your video evidence well.
【Parking Monitor & After-sales Guaranteed】 Combined with a parking monitor, the car dashboard camera recorder will automatically power on and starts recording when it detects external force, providing you with security every moment. Professional customer service will work 24 hours to solve any problem. You will enjoy a wonderful shopping experience!
【Waterproof Rear Camera & Premium Quality】With an IP68 waterproof rear camera, you don't have to worry about the rear cam getting wet with rain. Never miss important video recordings. And support at 14℉~122℉, safe and assured quality and after-sales service, CE, FCC, RoHS, and UL certification.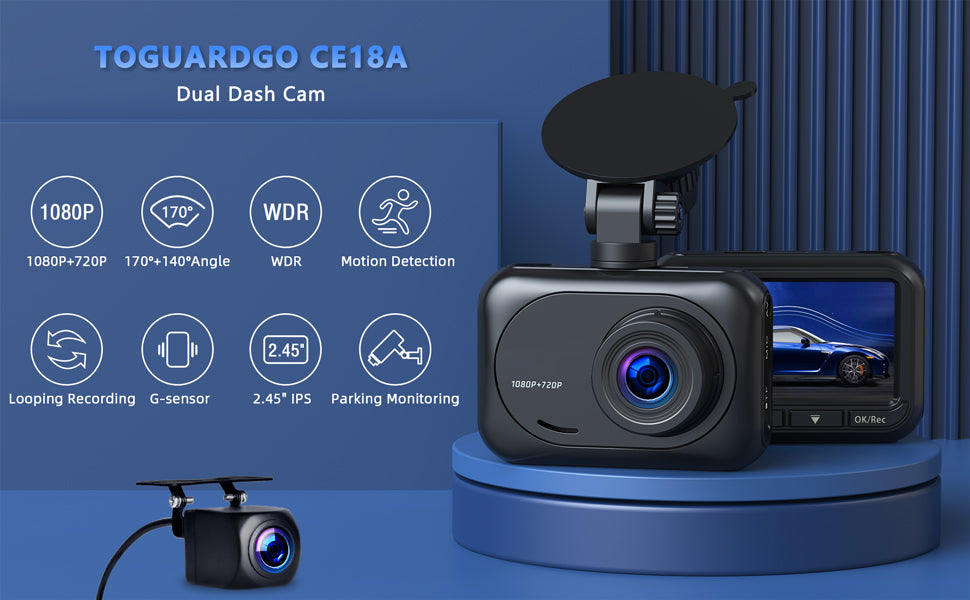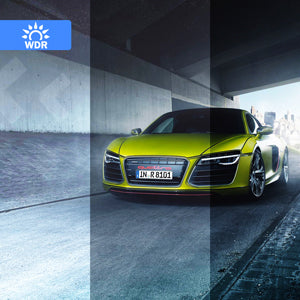 WDR Nigh Vision & FHD 1080P Recording
FHD front 1080P@25fps and rear 720P@25fps car cam with WDR technology make night/ low light shots brighter and prevent overexposure, such as driving into the strong sun or oncoming traffic headlights at night.
At the same time, the dual camera lens with 6 glass lens, F 2.0 and advanced Sensor captures every such as license plates and road signs clearly.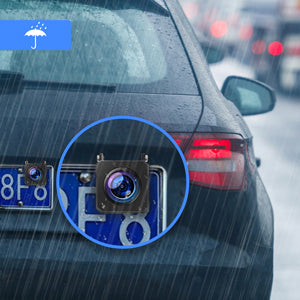 Waterproof IP68 Rear Camera
With an IP68 waterproof rear camera, you don't have to worry about the rear cam getting wet with rain.Never miss important video recordings.
Warm tip: Please make sure that your camera is installed in the best position of the field of view, and check whether the installation is firm and the camera is clean.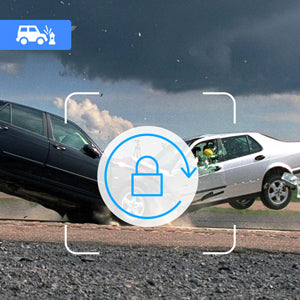 Emergency Recording Lock & Support 128GB SD
The camera will lock the current footage and prevent it from being overwritten if a shock or collision is detected. CE18A dashcam supports 128GB SD Card(class 10/U1/U3 or above high-speed Micro SD) to save more video evidence.
Warm tips: we recommend that you format SD card and restore the factory settings once a month to improve car cam performance.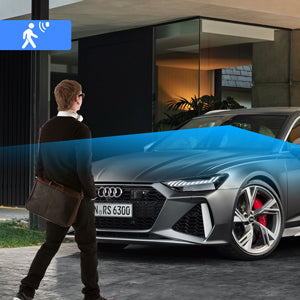 Parking Monitor & Motion Detection
After G-senor detects bump or impact, dash cams automatically power on and start recording front and back lens for 15s when the parking mode is turned on.
When you park temporarily (the car is power on)and turn on Motion Detection. Once there are moving objects/people in front of your car, the car camera will automatically record and save evidence to protect your car.
Note: Please "turn off" motion detection during driving, to prevent affecting the recording.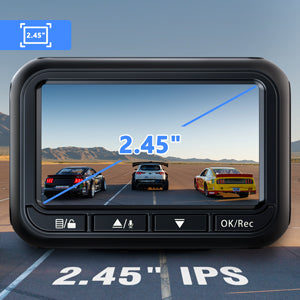 2.45'' IPS Screen & Comfortable Button
With 2.45-inch IPS high-definition screen provides more clear live vision and brings a totally new user experience.
With the comfortable button and operation guide icons, it is easier to operate,operation is still simple and friendly to new users.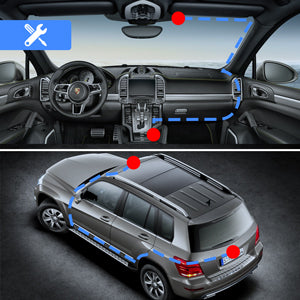 Easy Installation
The installation of this dash camera is very simple, just install the dashboard cam on the windshield through the suction cup mount, then connect the car charge and rear cam cable, route the excess cable alongside the interior trim for better looking.
Warm tip:If you need installation help, please find us for help.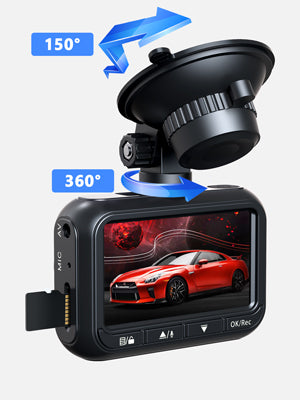 TOGUARDGO CE18A Front and Rear Dash Cam
TOGUARDGO CE18A dash cam with a compact design makes it truly your invisible driving defender. 1080p front camera and 720p waterproof back camera, WDR night vision, parking mode, lock for emergencies ect. Protect your safety from driving.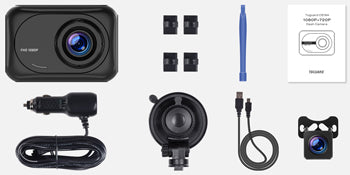 What's in the box?
1x Dash Cam
1x 21.32ft Rear Camera
1X 11.48ft Car Charger
1x Mini USB Cable
1x User Manual
1x Suction Cup Mount
4x Cable Clamps
1x Crowbar