【4K Ultra HD Recording Dual Dash Cam】Adopting top quality Sony image Sensor, this dual car camera captures crystal clear view at Ultra HD 4K 3840 * 2160 @25fps and 1920 * 1080P @25fps. The clarity of 4K videos allows the driving recorder to get great details of license plates and road signs, perfect to protect yourself from potential liability issues as well as accidents.
【Dual 180 ° Rotating Cameras】In addition to an advanced 4K front camera, the inside camera adopts upgraded 7-Glass F1.8 aperture lens. Both cameras can be rotated in 180° which is convenient and user friendly for you to adjust the angel. The two 170° wide-angle lenses record road ahead and car interior simultaneously. Perfect for rideshare drivers such as Uber, Lyft and Taxi.
【Sony Night Vision Car Camera for Drivers】The dual-lens dashboard camera is equipped with two Sony CMOS and f1.8 apertures (the largest in the industry) lens, greatly increase exposure in dark situation so that it can deliver comparatively clearer footage and images in low light condition.
【4K Compact and Hidden Dash cam】The car dvr itself is a low-profile and discreet design that allows you to stick it to the windshield for optimal field-of-view thus not attract attention and making safe driving.
【24 Hours Parking Monitor】In parking mode, both cameras will auto record and save those important events when detecting a collision or vibration, which provides your car a safer parking environment.
【3 Inches IPS Screen】Featuring an entirely new chipset design, the 3 inches IPS screen is going to provide you with comfortable and clearer visual experience.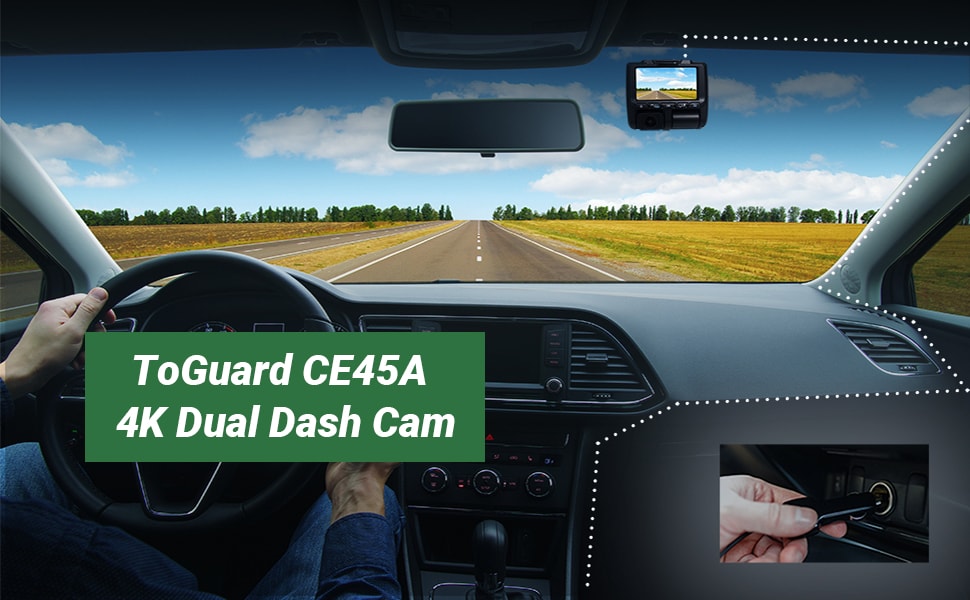 We adopted Novatek processor 96670, which is proven to be the best 4K chip to match sony technology. As it is able to make full use of the outstanding sony superior quality capabilities, AI dual dash cam is capable of delivering more detailed, brighter and clearer images in day and night.
Top Quality: Resolution options are: Front 4K 3840*2160@25fps + Inside FHD 1920*1080P@25fps or Front QHD 2560*1440@30fps + Inside FHD 1920*1080P@30fps or Front FHD 1920*1080P@30fps + Inside FHD 1920*1080P.
Super Night Vision: The A1 car driving recorder takes advantages of sony superior night vision capabilities to capture every detail of your surroundings and cabin in low-light conditions.
Compact and Elegant Design: Easy to install behind the rearview mirror by using adhesive stickers, low-profile design will not attract attention.
Dual Rotating Lens: Both the front and inside lens can be rotated in 180° so that you can adjust different perspectives as you need.
3'' IPS Screen: Provide you with better and crystal clear visual experience.
Two Ways to Attach: You can either use the suction cup or the 3M tape to mount the cam.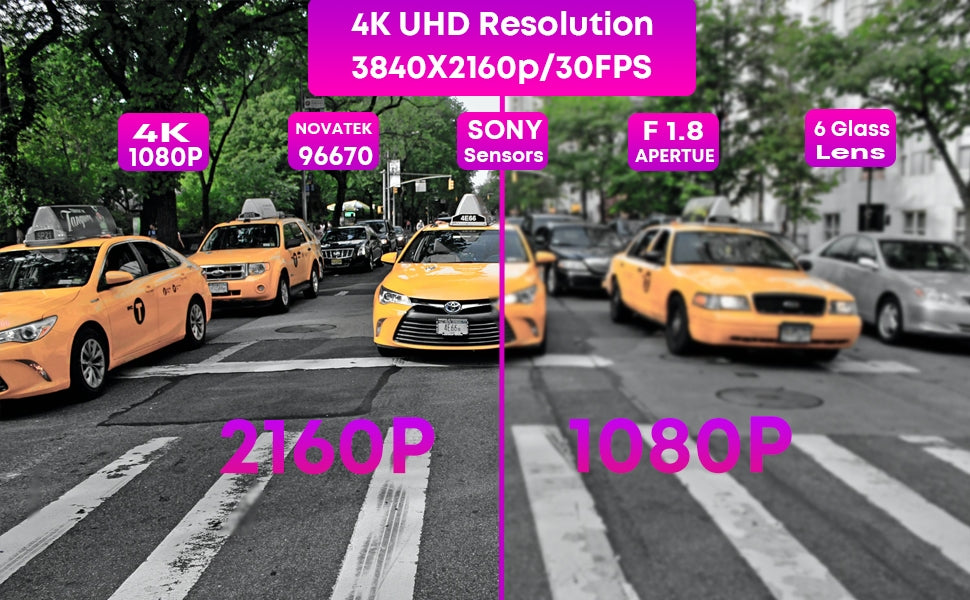 Super Night Vision
The combination of the advanced 4K chip Novatek 96670 and sony Sensors, in no doubt, will produce superior night vision capabilities. Two 6 glass lens with F1.8 aperture to furtherly improve light compensation, so it performs extraordinarily good even in low light conditions.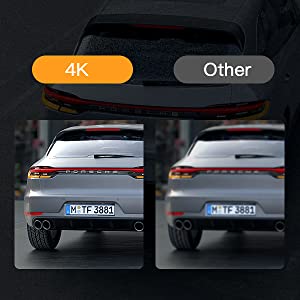 4K Dual Dash Cam Front and Inside
With 4K amazing clarity, A1 car driving recorder is perfect for Uber or taxi drivers as well as people who pursue crystal clear images.
It achieves the best results of shooting video at 3840*2160 Ultra HD, capturing your driving moment vividly as well as showing strong evidence once needed.
24 Hours Parking Mode
While parking mode is on, the car dvr is able to detect collision in front of your vehicle and work on its own to collect videos. Once it triggers, the car camera will power on and start recording a 30s locked video and then turn off.
Note: Please notice that if you turn off the dash cam manually before you leave the car, the parking monitor could not active when detecting collision.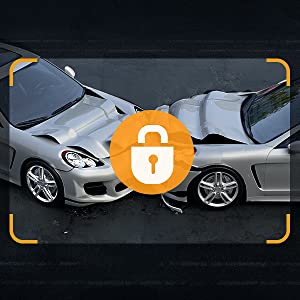 Emergency Recording
The reliable G-sensor will be activated once detecting a collision or shake.
It ensures that footage captured in emergency occasion or accident events could be safely locked and saved into the memory card without being overwritten.
The options of sensitivity level are: off / low/ medium/high.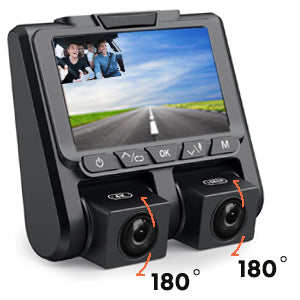 Dual 180° Rotating Lens
The rotating lens is a unique design of A1 dual dash cam, which most lens of car cameras can not realize. You can adjust different perspective as freely as you can so that you won't miss anything at any direction that you want to capture.
3'' IPS Scrren
Apart from delivering crystal clear images, 3 Inches is the most standard screen size that offers you the most comfortable visual experience according to scientific testing.
Two Ways to Mount
We prepared two kinds of mounting tools. 3M adhesive sticker will makes A1 looks elegant and low profile. While the suction cup mount is flexible and intuitive .
Support sd card up to 128GB
A1 Uber dash cam supports sd card 32-128GB, U3 level is suggested, please note that memory card is not included.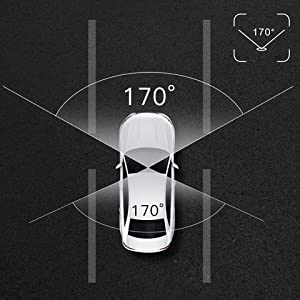 170° Dual Wide Angel
The front and inside camera records simultaneously in 170°, covering over 6 lanes, effectively reducing the blink spot and provide you and your car with enough protection.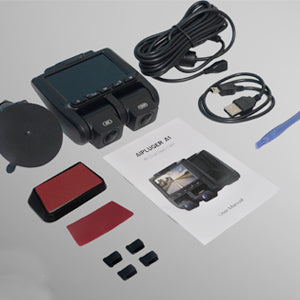 What's in the Package
1*Dash Cam
1*Car Charger
1*mini USB Cable
1*Suction Cup Mount
2*Electrostatic Film
1*3M Adhesive Mount + 2*3M Adhensive
4*Trim Pry Tool + 1* Cable Fixer
1*User Manual
Warm Tips:
This dash cam doesn't include an SD card. We recommend using a U3 or above Micro-SD card, capacity Max 64GB.

Please format the card before first use.
Please feel free to contact our support team if you have any question, we are looking forward to hearing from you.
Please keep your windshield clean and take off the protective film of the screen and lens before using it.