There are big sale at the end of the year. Shopaholic is not exclusive to women. Men can also take this opportunity to choose a super cool dash cam for your car. Without further ado, look at Toguard latest launched Dual Dash Camera.
Let's take a look at its beautiful appearance first.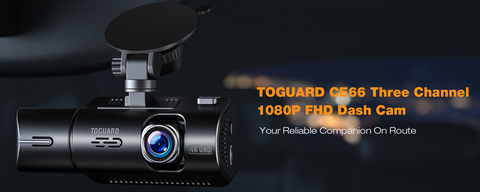 It was launched in November this year and has been selected No135 in "Car On-Dash Mounted Cameras".
Features
This three lens dash cam offers 170° front camera, 150° inside cabin camera and 150° rear camera ,all can record 1080P+1080P+1080P. Giving you peace of mind inside and outside the car. Dual recording mode captures a crystal clear 4K (3840 x 2160P)  photo in the front and 1080P 30fps's scenes inside cabin, can take a photo of clear shot of license plates and road signs. Using the interior camera, you can monitor kids, passengers, pets or even catch robbers to protect your property.

4K Ultra HD Car Dash camera
Toguard CE66 dash camera adopted Sony sensor, 2 channel or single front recording, front camera captures native 4K UHD (3840 x 2160@30fps) footage with clear details. License plates in distance can be recorded in a very crisp 4K video.
Optional Installation Mount
Adhesive mount and suction cup mount are available in the package. You can choose what you prefer. Flexible rotatable three camera lenls offer more security.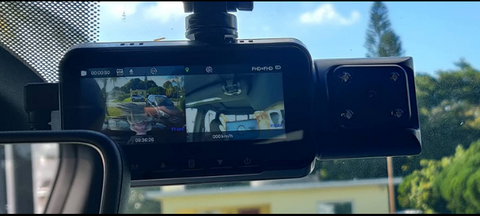 Excellent Infrared Night Vision Dashboard Camera
Equipped with high-performance Sony STARVIS IMX335 sensor and F1.8 large aperture 6-glass lens observing road. This car camera is able to increase exposure automatically in dark situations to capture clear license plates and passenger footage.
GPS Tracking Speed and Optional Screen Saver
The built-in GPS adds driving speed, routines and locations to recorded clips for additional evidence. Optional Screen Saver2 with driving speed and date-time display lets you fully enjoy your driving experience freely.
More than A Standard Camera for Car
Meet all of your demands of a dash cam: loop recording, emergency recording lock, parking monitor, time-lapse, parking assist, offer you much more than these. Two kinds of Mount provide more installation options, support 256GB Max SD card for a long time road trip.
New product Q&A
Q: Does it have internal battery ? 
A: This three channel dash cam has a small internal battery, it's used to support parking monitor, continuous recording requires a power cable connection.
Q: Does this come with all the wiring and everything that it needs to be installed and working?
A: This three channel dash cam comes with all the wiring and everything that it needs to be installed and working. (Except SD Card)
Here is the package list:
1x three-channel dash cam
1x rear camera with cable
1x car charger
1x Micro Mini USB cable
1x user manual
1x static stickers
4x cable clamps, 1x crowbar
1x adhesive mount, 1x suction cup mount
2* replacement sticker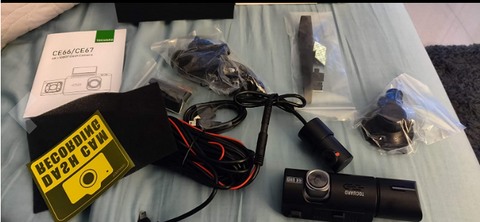 Q: Can it turn on/off audio by pressing a button?
A: There is a shortcut to lock the video manually, when this 4K dash cam is recording video, short press the "Menu Button", the current video will be locked.

Q: Can this mount directly on the windshield?
A: This 4K car dash camera is designed to install on the windshield, it comes with adhesive and suction cup mount, you can choose which one you prefer.
Before installing it, please clear up the windshield.
Q: Can this 4K dash cam record only front and rear?
A: This 3 camera dash cam can record 1080P front, 1080P cabin and 1080P rear view.
Achieve two-channel record, the rear camera need to disconnect, it can record 4K front and 1080P cabin view.
If you want to record only front view, you can set it on the setting menu.
Toguard CE66 customer experience part: