Maybe you are worried about how to find a suitable dash camera for yourself? There are many kinds of dash cameras on the market, brands, prices, features, you may be overwhelmed with hundreds of choices again.
Suppose you remove other brands of dash cameras and only look for the one you want in toguard, I believe you will also be tired of looking for it. There are too many choices, how do I choose?
But, don't worry anymore. 2022 TOGUARD's new RM05 4K front and rear view mirror dash camera with its amazing features and best-in-class built-in voice commands could well be the next dash camera for you.
TOGUARD RM05 12″ 4K Rearview Mirror dash camera
Specification
Screen display: 12 inches (11.26 inches)
 Lens: Front and rear wide angle lenses
 Video resolution: Front:3840x2160P; Rear1920x1080P
 Video format: MP4
 Video encoding: H.264
 Image format: JPG
 Loop record/Parking monitor/G-Sensor/Microphone/Loudspeaker: Built-in
Storage: Micro SD card up to 128 GB (NOT included)
 Operating temperature: -20℃~60℃
 Power supply: DC5V/3A
Features
Why is the TOGUARD RM05 the perfect choice for you?
Let's get right to the point, this dash camera has almost everything that other conventional dash cameras have and more. If that's not enough to solve the problem right away, then let us take you through everything you need to know about this great dash camera.
4K Ultra HD
You wonder why you need to choose such a high resolution, I can choose a medium resolution, and the price will be relatively cheap, right? But in fact, you can imagine that you want to see something not far away, such as a road sign, License plate, do you think people who are nearsighted can see it clearly or people who are not nearsighted can see it clearly? I believe you will also choose people who are not nearsighted. The same is true for the resolution of the driving recorder. the higher the value, the clearer the picture, there is no doubt about this. However, what is the point of buying a camera if you can't clearly see the images it takes?
On the other hand, you can be sure to get the most out of your money. Why is that? Because the TOGUARD RM05 with 3840 x 2160 and 30fps 4K ultra-high resolution gives you super-sharp images without distracting too much from seeing them clearly. Then you can see the road information effortlessly. Increase the safety and reliability of driving, which can not be replaced in low resolution dash cameras. It only costs a little more than a low-resolution dash camera, and can greatly improve driving safety, I think it is a very worthwhile investment.
The TOGUARD RM05 does this very well, and you don't have to suffer the brain for not being able to see traffic signs and other content clearly. In addition, it is equipped with a 12-inch rectangular display is also equipped with a brightness adjustment function. Taking into account the needs of different customers with different eye sensitivity to light, you can freely adjust the brightness of the display according to the comfort of your eyes, it can be said that its design is very humane and very thoughtful.
F1.8 large aperture
Most of the recorders on the market use three types of lenses: all-glass lenses, resin lenses and glass-resin hybrid lenses. The TOGUARD RM05 uses a 99.9% light-transmitting spherical glass lens with a large F1.8 aperture. As we know, the role of the aperture is to determine the amount of light into the lens, the larger the aperture, the more light into the picture is brighter. So even in the case of glare in the daytime, you can still see the picture effortlessly. It can effectively prevent glare.
In addition, it is equipped with a wide-angle 170° front camera and 150° rear camera, which covers at least 3 lanes of traffic. It has a wider field of view than a standard dash camera. This gives you a better view and greatly reduces blind spots, and it will help you avoid blurred mirrors on both sides due to rain and fog to ensure your safety on the road.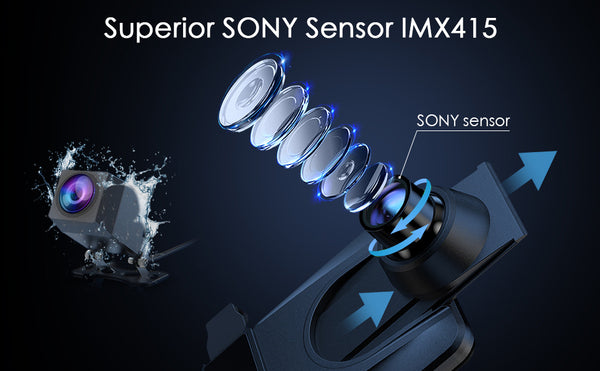 Sony Sensor
It is not enough to buy a high resolution dash camera. A dash camera should also come with a feature that allows them to capture images clearly even in the dark to ensure safe night driving.
If you choose to purchase the TOGUARD RM05, you can rest assured. It captures the best images even in the darkest of places. The reason for this is thanks to the SONY STARVIS IMX415 sensor, which dramatically improves image processing at night and ensures high light transmission and sensitivity. Even in dark environments, parking surveillance images such as passing license plates and road pedestrians are clearly visible. Even at night or even when it is raining, it can sharply capture images and record them. This is the important reason why RM05 can fully ensure that it is still clearly visible in low light environment.

Intelligent Voice Control System
Although the TOGUARD RM05's display is a touch screen, sometimes the operation is done through voice control, which is much safer than manual operation.
Yes, you heard it right, it supports voice control. This is probably the coolest feature that comes with this dash camera. Most of the dash cameras do not have this feature, but TOGUARD RM05 it is one of those that support voice control.
Especially when the speed is a little faster than usual, it is difficult to remove your hand from the steering wheel, the voice function will play a big role. By voice command, it can easily complete the operation you want in a very short time. So, when you buy a dash camera, why not buy one with a voice control option to make your driving experience better? And you will become cooler and safer.
Tip: When giving commands to the CarLog, make sure you turn down the volume of the radio, or any other noise that would interfere with it.
The following is a list of commands for the Smart Voice Control feature.
turn on/off screen;
turn on/off audio;
video start/stop;
 take photo;
show front camera/rear camera/both camera;
 turn on/off wifi;
lock the video;

WIFI
If the voice function is not the coolest design, then it supports WiFi function, which is something I never expected. You can download the app "GXplayer" from Apple Store or Google Play Store and connect your phone to RM05 via WiFi, you can easily control its functions, view, save or download videos on your phone. With the GPS function together with the real-time view of the route and bit, which can be very convenient and cool.

GPS tracking route
If you are not familiar with the GPS tracking route feature, it allows you to pinpoint the location of the video and indicates the real-time driving speed while recording. This is handy because if the event happens where you need to see where you are passing, your GPS will be able to pinpoint it. This can be an invaluable and useful feature if a sudden event occurs.
Touch screen
The full screen belongs to the touch screen, which increases the sense of technology and greatly increases the user experience at the same time. Get rid of the tediousness of the buttons, just flick your finger, you can easily complete the operation.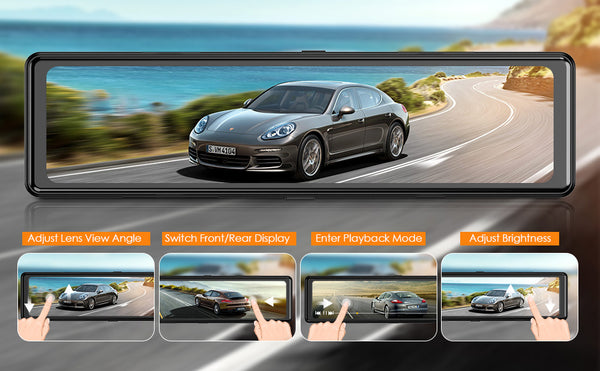 There are several shortcut key operations in the recording interface:
Sliding horizontally to the right to enter the playback mode.
sliding horizontally to the left to switch the front and rear camera display modes.
vertical up and down swipe on the right side of the display to adjust the screen brightness.
vertical up and down sliding on the left side of the display to move the lens view.
Its touch screen function is different from other dash cameras - it can adjust the screen brightness and lens view; when you are reversing or turning, you can watch the information around the car; providing you with more information about the road.
Safer Parking Assist
When your gear is in reverse, the Parking Assist feature on the TOGUARD RM05 automatically switches to the rearview camera to effectively help you park your car more easily. In addition to helping you park your car, the safer parking assist feature also keeps a close eye on your car once it is parked.
Note: This feature can be activated by connecting the red wire from the rear camera to the positive terminal of the reverse light.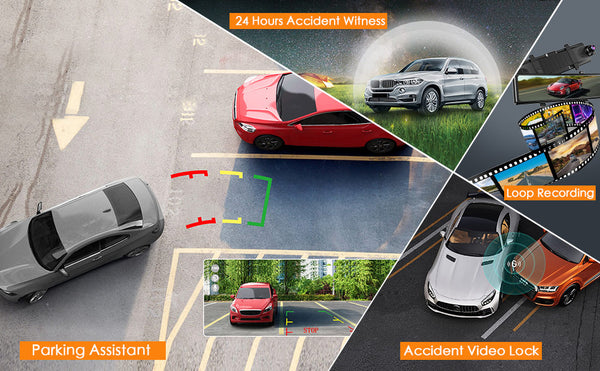 24-hour parking monitoring
Times are so tough today that you don't know what will happen if your car is left alone for a period of time. But with the TOGUARD RM05's 24-hour parking monitor, you can sleep peacefully without worrying about not knowing what will happen to your car.
Thanks to its G-Sensor, when your car is parked, the CarLog will immediately turn on and capture a short video of the lock when any shaking, movement or collision is detected. The accident scene is played back losslessly, so you don't have to worry at all about reporting or collecting evidence.
Note: The G-sensor will activate even if you are driving. If you are driving in any collision, the CarLog's G-Sensor will immediately activate its emergency lock function and record a short loop recording for you to view later.
If you have anything on the market, it's best to have several products to compare. the TOGUARD RM05 really stands out among its competitors. With its 4k quality images, voice command, super night vision and all the other features we have already mentioned, you will definitely be assured that this dash camera really does go above and beyond. In fact, anyone who buys this product will be a happy and satisfied customer.
If you are still not convinced, think of it this way: a dash camera is something that you use on a daily basis. Not only that, but it is also a way to keep you and your vehicle safe. Therefore, it's best to invest in a reliable and convenient quality dash camera, and in this case, the TOGUARD RM05 can guarantee that.
Recommended reading:
Toguard RM05  Dash Camera Installation Guide
2022 Toguard Dash Camera New Release - RM Series
How About The TOGUARD RM03 10'' 3 Channel Touch Screen Mirror Camera
How About Toguard's RM02 11''Adjustable Front And Rear View Mirror Camera