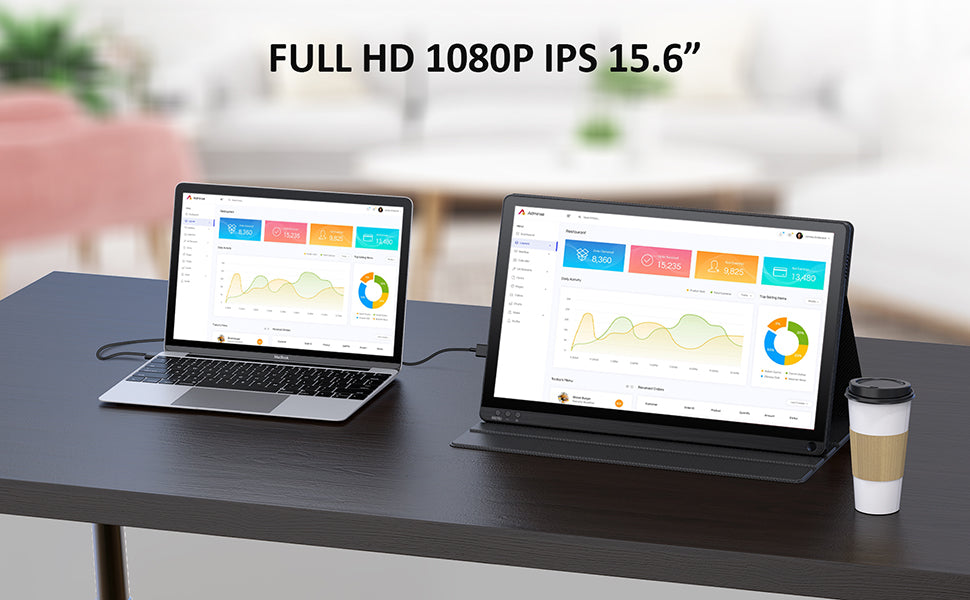 The Corprit D154 is a 15.6-inch portable monitor with mini HDMI and USB-C ports that can be used as a second screen for laptops, PCs, MacBooks and cell phones, greatly enhancing your productivity and visual experience.
This Corprit portable monitor delivers a stunning visual experience in FHD 1080P resolution.
The 15.6-inch IPS screen displays vivid, clear images without distortion.
A built-in blue light filter automatically reduces blue light to protect your eyes.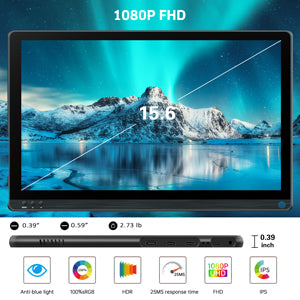 Full HD 1080P
The Corprit USB-C monitor features a 15.6-inch FHD 1920 x 1080 IPS screen with a 16:9 aspect ratio and a slim, portable design that provides you with a wide field of view and impressive visual clarity while being very easy to use. Take it with you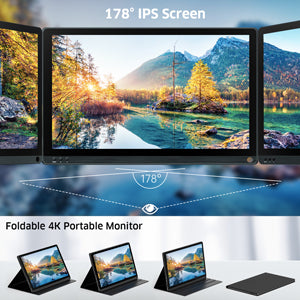 Landscape or Portrait Mode
Corprit laptop monitors are available in landscape and portrait modes. You can easily switch between these two modes by changing the settings. In portrait mode, the monitor greatly expands the vertical view, perfect for viewing websites or documents.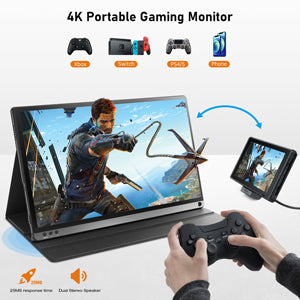 Extend your smartphone
This external display is compatible with phones with full Type-C ports. With just a Type-C cable (included), you can extend your phone's screen to a large, durable 15.6-inch screen. Note: For iPhone, please contact Corprit for an adapter (Lightning to HDMI) if needed.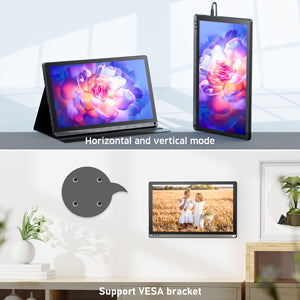 Full 178° Viewing Angle
Connect this portable display to achieve an extended viewing angle of 178°. Distortion-free, crisp image quality and low blue light eye care. If you have a heavy online workload that requires you to switch between different web pages, this portable monitor is a great help to improve your efficiency.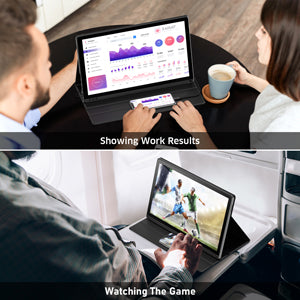 Portable Gaming Monitor
For video gamers, this Corprit gaming monitor is perfect for gaming on PS3, PS4, XBOX ONE, Nintendo Switch, or other systems with USB-C or HDMI output. Full HD 1080P and dual stereo speakers provide a great HD gaming experience.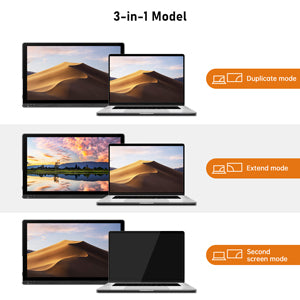 Dual stereo speakers
Dual built-in stereo speakers provide an immersive home theater experience with crystal clear sound quality. 3.5mm audio port is available to add your own speakers.
Note.
Please check if your device's USB-C port is a full port. If it is for charging only, it will not work.
This monitor does not have a built-in battery and requires a 5V/2A power supply. Please make sure the connected device has sufficient output power through the USB-C port, otherwise an external power supply is required.
Make sure your device has full USB-C or HDMI output to connect to this monitor.
iPhone, for an adapter (Lightning to HDMI) please contact Corprit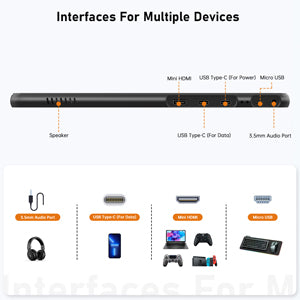 Package
1*Display
1* Case
1* Protective film
1*USB Type-C
1*HDMI
1*Type-C adapter
1* Maunel