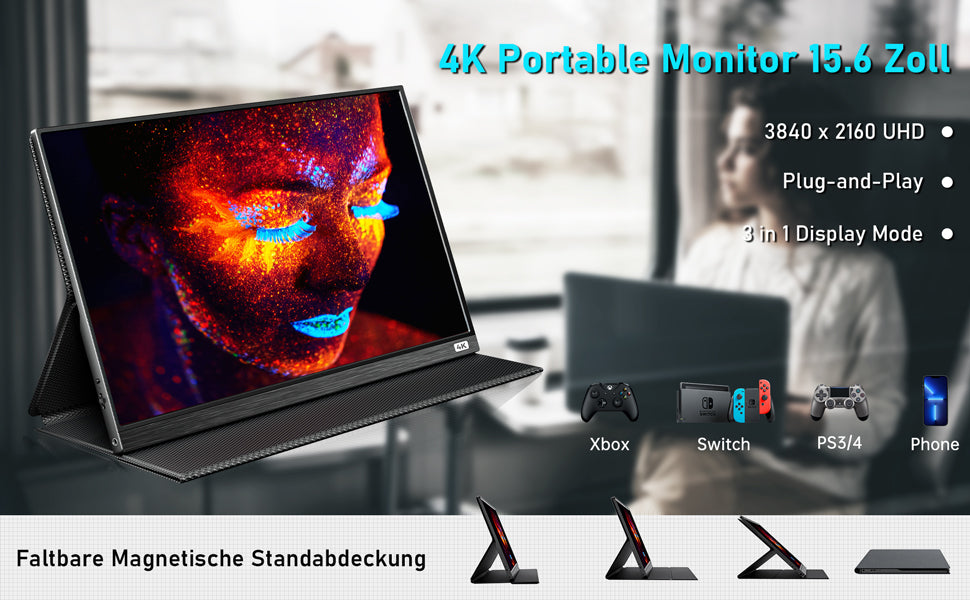 【Dominant 4K resolution monitor】 D159 portable monitor with display industry leading 4K (3840×2160) resolution and up to 282PPI pixel density. Giving you a more detailed picture and a more realistic visual experience.
【100% sRGB HDR Portable Monitor】 This portable monitor features 3840*2160 resolution with 8-bit IPS panel, approximately 16.7 million color display, 1000:1 contrast ratio, 16:9 aspect ratio and HDR, 15.6-inch IPS panel, 178° viewing angle, and vibrant screen colors. The notebook display features excellent 16.7M 100% sRGB color rendering, fast refresh rate (60Hz), and responsiveness (4ms) for clearer, smoother, and better performance in multi-work, gaming, and everyday use. The portable screen is a 4K IPS eye protection screen with a brightness of 300cd/㎡, which can effectively reduce the damage caused by blue light radiation.
 【USB C Type Portable Monitor】 This portable 15.6-inch 4K monitor features a mixed-signal solution that supports power and video transfer and is compatible with USB Type-C port laptops or smartphones. This one-stop solution USB Type-C portable monitor allows you to extend the view from your laptop/phone anywhere, anytime.
【portable HDMI Multifunctional Display】 D159 monitor features mini HDMI port with dual USB-C. It supports as a second fast screen for cell phones, laptops, MacBooks, computers, cameras and gaming systems (PS4, Xbox, Switch, PlayStation), TV sticks, and many other electronics, greatly improving your work productivity and visual experience. This D159 4K portable monitor is suitable for designers/photographers/computer engineers as an extended screen for them to work on, as well as a panel for artists and gamers.
【15.6" Slim Ultra Portable Monitor】 Ultra portable design, 1.96 lbs, 0.25" slim and 15.6" display that fits perfectly with your device. Product Dimensions - 8.7 x 0.25 x 14.2 inches. With a leather case and a premium aluminum metal body, the D159 portable monitor is easy to carry and less of a burden to travel with.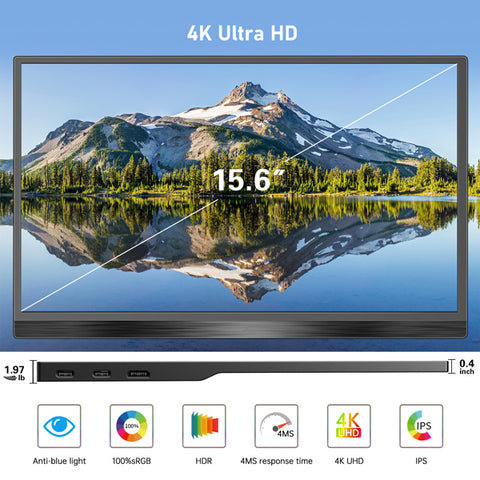 Excellent Image Quality
Portable monitor with 100% sRGB color gamut and 300cd/m2 brightness. 15.6-inch 4K Ultra HD IPS display provides an unparalleled viewing experience, allowing you to see more details at a glance. 60Hz refresh rate, Free-Sync and HDR features give you clearer, smoother and better performance in games/multimedia. (without internal battery).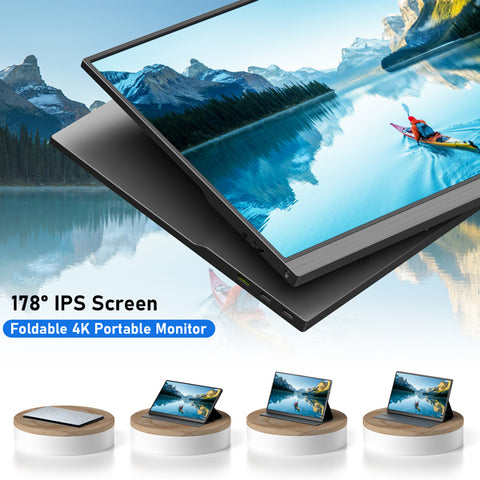 Built-in dual speakers
The built-in dual-speaker portable monitor delivers great sound quality and clarity and brings an amazing home theater experience to your home. You can also add your own speakers for better sound via the 3.5mm audio input.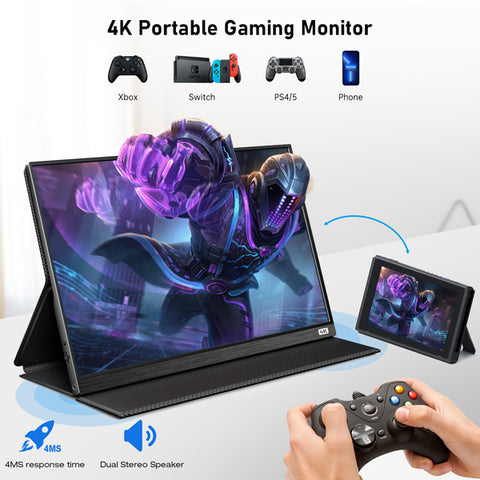 Ultra HD Gaming Monitors
Portable gaming monitors are the best choice for playback from PS3, PS4, XBOX ONE, Nintendo Switch, or other systems with USB-C or HDMI output. The high refresh rate makes even demanding games a visual treat.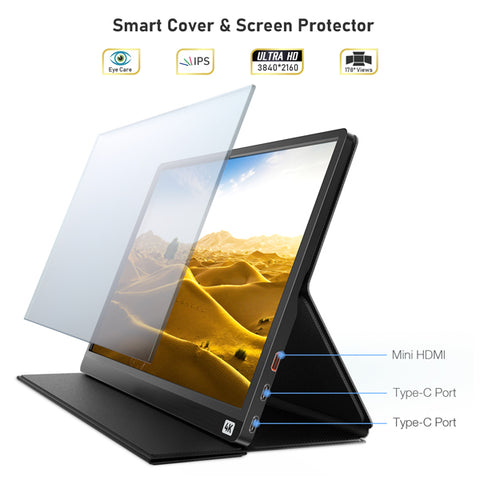 Type-C laptop monitor?
This external display is compatible with phones/laptops with full Type-C ports. With just a Type-C cable (included), you can expand your phone screen to a high lasting 15.6-inch screen anytime, anywhere.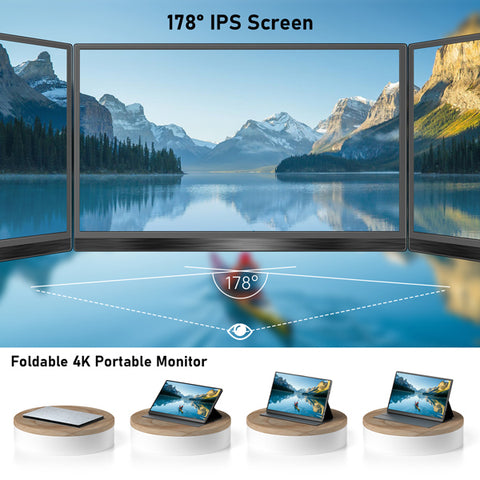 Ultra 178° IPS Viewing Angle Portable Display
Connect your portable monitor for an extended viewing angle of 178°. 3840*2160 resolution portable monitors provide a truly immersive viewing experience. The seamless connection of various web pages greatly enhances work efficiency.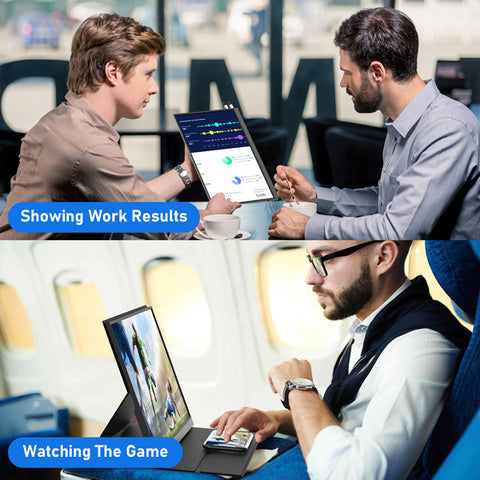 Easy to carry portable monitor
The portable 15.6-inch IPS laptop monitor is incredibly slim, with a 0.40-inch slim profile and a 1.90-pound weight, making it incredibly compact and lightweight, so you can take it with you everywhere you go, perfect for work and play. watching movies and everyday use.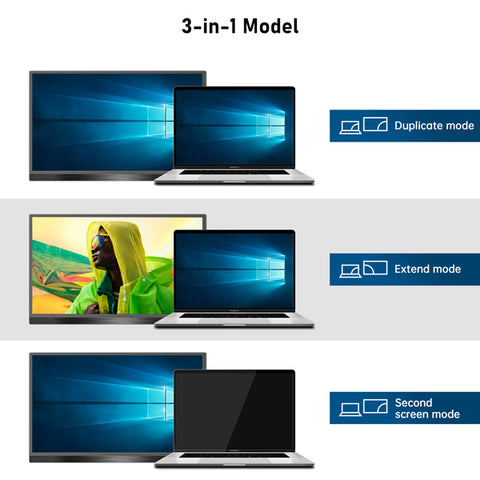 3-in-1 working mode
Copy Mode - The Corprit portable laptop monitor will copy the screen of a connected device, primarily for meetings to share your screen with others.
Extended Mode - If you swipe a page on the left or right side of the connected device, the second screen will display a different page. Very convenient when you need to do different pages, such as code entry, photoshop, video conferencing, etc.
Second screen mode - The portable screen will be used as the main monitor and the connected device's screen will be turned off. When there is a problem with the screen of the connected device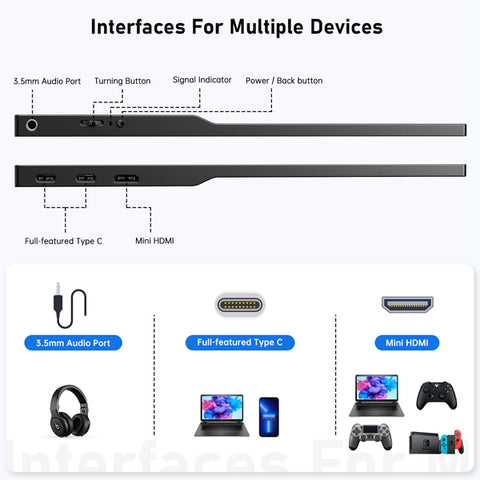 Features
Screen size: 15.6 inch
Weight: 0.89 KG
Display area: 363 (H) x 223 (V)
Display mode: IPS mode
Brightness: 300cd/㎡ 
Contrast ratio: 1000:1 contrast ratio
Resolution: 3840*2160P
Image format: 16:9
Viewing angle: 178°
Refresh rate: 60Hz
Color gamut: sRGB100%
Features
Display color: 16.7M
Speaker: Built-in speaker
Output connector: 3.5mm headphone jack
Input connector: Mini HD (video signal), Type-C full function (video data, power)
Compatible phone model: Samsung DEX / S8 / S8 + / S9 / S9 + / S10 / S10 + / S10E / Note 8 / Note 9, Huawei Mate 10 / P30, OPPO R17 Pro and more full function USB Type-c smartphones.
Compatible PC Model:Apple MacBook12, MacBook Air, iPad Pro 2018, Huawei MateBook, MateBook E, Lenovo Yoga 5 Pro, HP Pavilion X2, ChromeBook Pixels, Surface Book2, etc.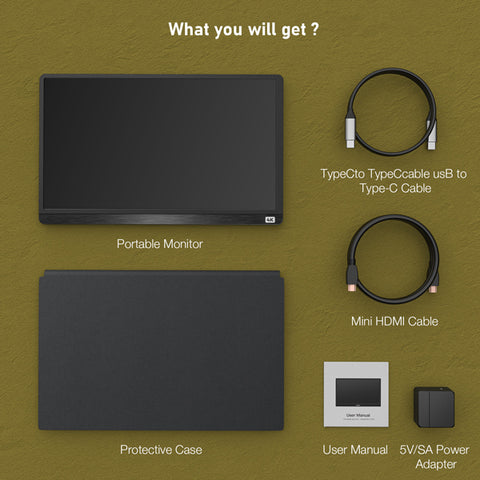 Package
1 x 4K Handheld Display
1 x Cable Mini HDMI with HDMI
1 x Type-C to Type-C cable
1 x Type-C to USB-A cable (power supply)
1 x Foldable Leather Case
1x 30W Power Adapter
1x User Manual