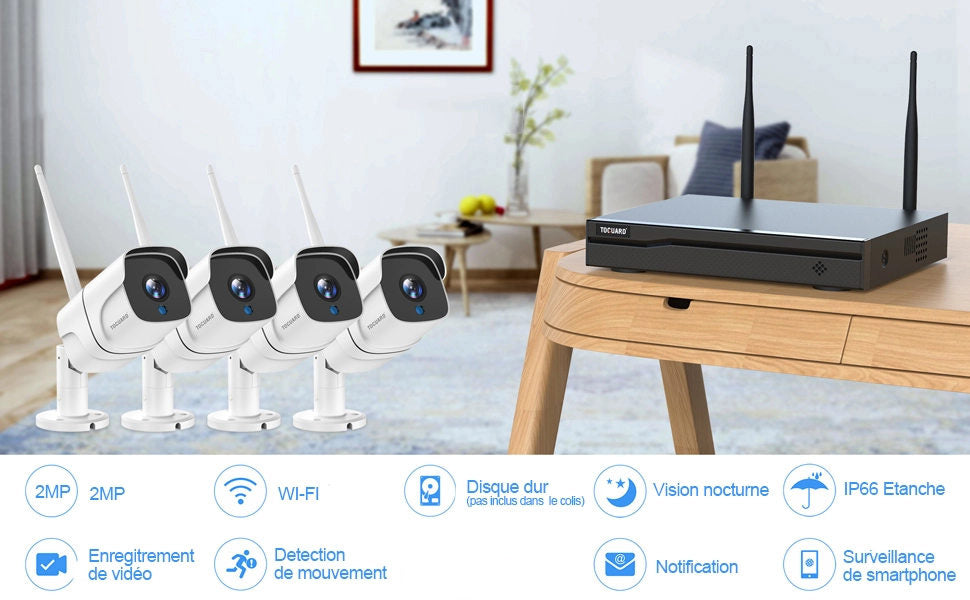 About this item
【Long distance Wifi connection and plug and play】The wifi camera system supports wireless cascade, when the camera is far away, you can also connect to the VCR by approaching the camera. Each camera can be used as a transmission repeater to extend the wifi range. 8-way NVR has a built-in WiFi router, just install the camera and plug the camera and nvr into the adapter separately to use the device normally. (Camera and NVR are paired before shipping)
【1080P Full HD Camera and 100ft Night Vision】This wifi camera system is equipped with 4 1080P Full HD IP cameras, providing you with clearer and more detailed surveillance images than other 720P cameras, and offering an excellent and smooth viewing experience and longer surveillance video recording time.W300 security camera has 33 built-in IR lights and night vision distance up to 100 The W300 security camera has 33 built-in IR lights and a night vision range of up to 100 feet/30 meters, providing clear images day and night.
【Motion Detection and Email Alerts】 When the home security system detects motion, email alerts with snapshots and app alerts are pushed to your phone. Plug in for 24/7 continuous video recording, so burglars have nowhere to go. Perfect for villas, homes, offices, stores, warehouses, smart communities or anywhere else, this wireless security camera system can protect your family and property in every way.
【Remote Access and Video Playback】 This wireless security camera system supports video recording and playback. Connect the NVR to your home router via Ethernet cable, and then download the "Eseecloud/CloudEye" app to your mobile device. You can access your wifi camera system remotely via smartphone (IOS/Android), tablet, PC and other smart devices at the same time, and get notifications via WiFi/2G/3G/4G anytime and anywhere.
【IP66 Waterproof】IP66 weatherproof full metal housing design allows the outdoor security camera system to effectively prevent dust and splash water from entering and keep working in stormy weather. Operating temperature from -4°F to 120°F (-20°C to 50°C).
【Working Principle】 Connect the wifi camera and NVR to the power supply, then plug the mouse into the NVR. then connect the PC/TV monitor to the NVR with VGA/HDMI cable and connect the router LAN port to the NVR WAN port using the provided network cable. Then, our professional outdoor camera system will adjust to receive stable and streaming video according to the automatic bit rate. (Note: Please set up correctly to avoid email blasts).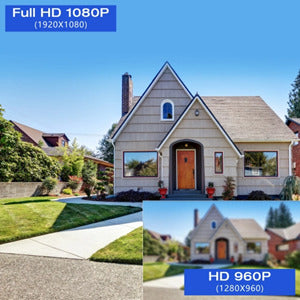 1080P WIFI Cameras
The product contains 4 1080P cameras, which can bring you excellent picture quality and richer image details, while meeting your multi-angle and multi-space security needs. Our products can support up to 8 connected devices at the same time.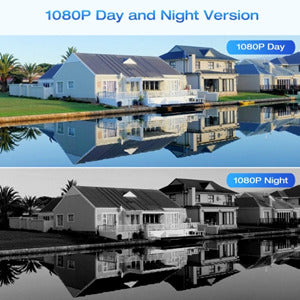 Infrared Night Vision
Cameras with built-in infrared LED imaging probes always present content to your satisfaction, whether it's dark or black, giving you true 24-hour peace of mind!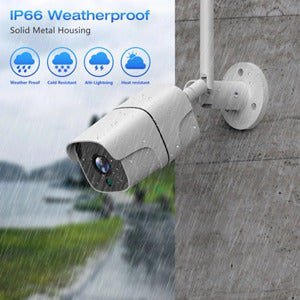 Multiple Applicable Scenarios
The wireless outdoor security camera meets IP66 waterproof standard and can withstand working temperature from -4°F to 122°F (-20°C to 50°C), even in extreme weather conditions. Home, apartment, office, shopping mall, parking lot, garage ...... can bring you high quality experience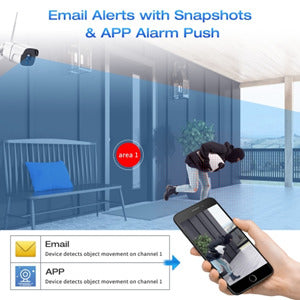 Motion detection
You can customize sensitive areas to improve detection sensitivity. When someone is found to move to a sensitive location, we will notify you via APP, cell phone, SMS, etc. so you can take precautions in time!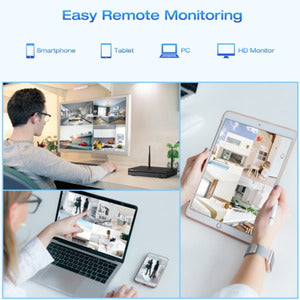 Multi-device connection.
This product does not provide a dedicated monitor, but can be used with a PC, cell phone, tablet or monitor.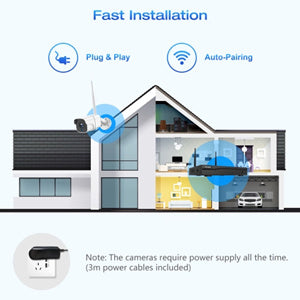 Easy to install
The camera connects to Recorder NVR via WIFI, no additional wiring is required, reducing the complexity of installation. But you need to power the camera, which is a must for all surveillance combinations.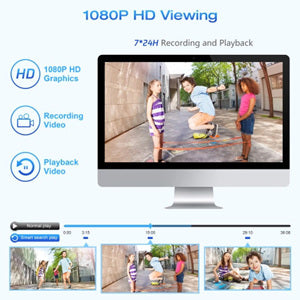 Features
Video input: 8CH wireless (up to 8 IP cameras)
Hard disk interface: 1x internal SATA interface, up to 8TB
Image resolution: 2.0 Megapixels
Video resolution: 1920*1080P
Lens: 3.6mm, 90 degree viewing angle
IR LED quantity: 36 IR LEDs, night vision distance up to 20 meters
Video output: 1CH HDMI and 1CH VGA


Interface: LAN/DC
Power input: DC12V-1A
Power consumption: ≤6W
Camera material: metal housing,
waterproof: IP66
Temperature: -10℃~+60℃ (14°F~113°F)
Operating humidity: 55% ~ 90%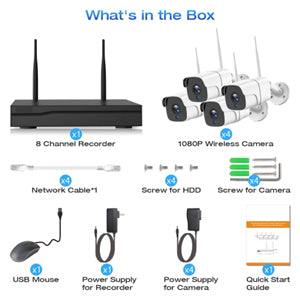 Product List.
1 x 8CH 1080P Wireless Network Video Recorder (Wireless NVR)
4 x 1080P IP Camera with 5DB Extension Antenna
4 x Power Supply (12V / 1A) Security Camera Power Adapter
1 x NVR video recorder power supply (12V / 2A)
1 x 

3TB Hard Drive


4 x Screws for camera mounting
1 x Screw for mounting hard disk
1 x Ethernet cable
1 x USB mouse
1 x User manual
Notes.

1. Hard disk (3TB) is included.
2. User manual language problem, please inform TOGUARD, we will help you solve it.
3. Wireless means the camera can automatically connect to the wireless NVR, but it also needs continuous power supply.
4. TOGUARD wireless security camera system 8CH 1080P NVR 4Pcs 1080P outdoor/indoor WiFi surveillance camera with motion detection, email alert, night vision, remote monitoring, waterproof, no hard drive
See what you like from every angle and control your house.
5. TOGUARD security camera system supports wireless/wired connection. When wireless signal coverage is not available, you can set up a wired network to transmit video. (To use a wired connection, you must use an Ethernet cable to connect the Wifi camera to your router).
6 、 Wireless surveillance system is suitable for various occasions, such as home, office, store, school, business, warehouse or other places. It allows you to monitor your property with peace of mind by monitoring your phone.


Tip: If you want to buy a single security camera for Toguard W300 Security Camera System, please click here.