Toguard's CE80B, CE70, CE18A, these three driving recorders will become toguard's hot-selling driving recorders in 2021; they are recognized and loved by consumers for their low price, high performance and excellent quality.
2022 toguard dash camera new release --RM series, Let's see which one is your favorite type?
RM02: New technology - Detachable front and rear cameras
RM03: Record three views at once in HD resolution
RM05: A stylish premium option with almost as many smart features as a phone
RM02: New technology - Detachable front and rear cameras
Removable front camera and longer rear camera cable:11-inch full touch screen rearview mirror car recorder breaks the way the camera and screen of the car recorder are connected as one, with the latest removable camera, the camera is separated from the screen, the removable front camera can be placed anywhere on the windshield to avoid obstruction from other devices. Making the screen slimmer and sleeker. In addition, the 11-inch full touch screen allows you to swipe the screen left and right to easily switch between front and rear view mirror views.
Dual Sony lens anti-glare, no overexposure: Do you worry about overexposure or glare of video pictures under strong light? No need to worry much! toguard rm02 car mirror camera uses a fully laminated screen to get the best images even under strong sunlight. And, both the front and rear mirrors are equipped with Sony sensors that use WDR technology to minimize glare from other headlights in night vision. Safe and secure
1920P*1080P front 1920P*1080P rear camera: 11 inch mirror car recorder streaming full touch screen car recorder with 1920P*1080P front 1920P*1080P rear camera, super night vision, up to 128G SD card support (not included) . Parking line can be adjusted by touch on screen to fit various vehicles; Loop recording allows new clips to replace old ones to free up storage space, G-sensor locks emergency files without overwriting any content as evidence.
GPS Tracking and Parking Monitoring with Battery Protection: The included GPS module allows you to add driving speed, location and route to the recorded files for later use. With the hardwire kit connected, the dual car recorder automatically shoots video after a collision is detected, then turns off after 30 seconds of locked video to prevent the car's battery from running out.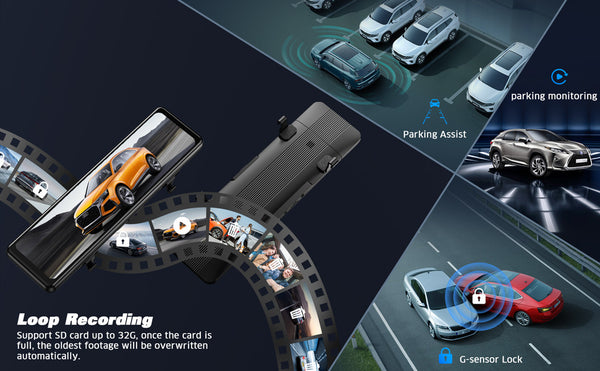 RM02: 11-inch thinner and lighter touchable screen, detachable front camera, dual Sony lens anti-glare, excellent HD video quality, parking mode, loop recording, GPS tracking, automatic stop line display, loop recording and gravity sensing technology all in one. I believe this is an excellent choice for drivers who want a simple and elegant driving recorder.

RM03: 3-way front, rear and in-car camera
1080P 10'' full touch screen can support 3-channel front and rear view mirror car recorder with detached 360° in-car camera. Capable of recording windshield, interior and rear at the same time in HD or higher resolution, or it can record both views in HD at the same time. Two of the views are captured by sensors built into the main front unit, while the third view is recorded by a remote rear camera with a long cable that reaches the rear window of most vehicles. One screen can watch video from all 3 cameras at the same time or you can choose to watch one video channel with an easy finger swipe to adjust the video channel; it also has motion detection, not just collision detection, so it can wake up and record activity around the car while parked. It truly achieves 360° surveillance inside and outside the car, fully ensuring safety inside and outside the car, making it very suitable for cabs. In addition, it supports G-sensor, loop recording, parking guard, auto power off, scerrnsaver, and IR night cersion. This is an affordable and multi-functional car recorder.
RM03: With the latest and most powerful features, even the best car recorders are usually inexpensive considering the important role they play at only 129.99. They may be the best gift you can give to anyone who drives. Here are four of the best car recorders, each representing a key feature you need to consider.
RM05: Front and Rear Cameras
Upgraded 4K Rearview Mirror Car Recorder: The front camera features a Sony Starvis IMX415 and 99.9% light-transmitting spherical glass lens, ensuring HD recording with backlighting and forward lighting. The rear view camera keeps the colors soft and bright so that the front license plate is clearly visible.
Easier to Use and Voice Control: 4k Car Recorder has basic voice commands, you speak, it will listen and follow your commands. If you want to stop recording while answering a call, there's no need to touch the screen - just say the command. What's more, Rearview Mirror Car Recorder supports switch sound, button sound and recording, providing you with an absolutely quiet driving environment, so you can concentrate on driving.
Playback and Settings on Mobile: The wifi function of this rear view camera allows you to change the settings and view the recordings on your cell phone. You don't even need to remove the SD card. Save tedious steps and time, and facilitate important footage during insurance claims.
GPS Tracking for Location and Speed: GPS data is integrated into the front and rear camera recordings.KM/H and MP/H speed units are suitable for most people's habits. You can check the current speed on the display while recording and the location while playing on your PC.
2.5D 12-inch IPS Full Touch Screen: This rear view driving camera has higher reflectivity, so you can easily deal with the high beam lighting of the vehicles behind you, completely away from the blinding headlights. In addition, this rear view camera driving recorder comes with an anti-glare film to reduce glare, and it helps you see more clearly what the rear view camera is projecting in the sunlight.
Auto Reverse Full Screen: Equipped with a wide-angle 170° front camera and 150° rear camera, the rearview camera driving recorder covers at least 3 lanes. After connecting the reverse light, the car camera will switch to full-screen rear camera when reversing. It will help you avoid the blurring of mirrors on both sides due to rain and fog. The rear camera supports mirror flip, so you can set the direction according to your reading and parking habits.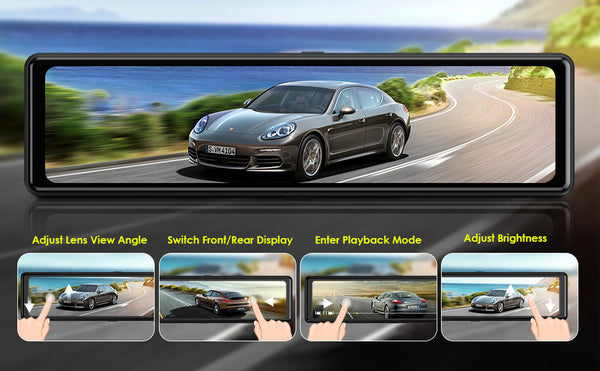 The RM05 dash camera uses Superior SONY Sensor IMX415 lens to ensure soft color HD recording, 4K car recorder video recording, night vision technology, parking mode, loop recording, voice control, view and download video on the The smartphone by the app, 24 hours accident withess, parking assistant, accident video lock, GPS Speed &location, intelligent adjustable screen, can support front and rear, far and near view, and brightness adjustment. This multi-functional intelligent car recorder, just as today's cell phone is not just a cell phone, the dash camera system is not just a camera. In short, there are many creative uses for a dash cam.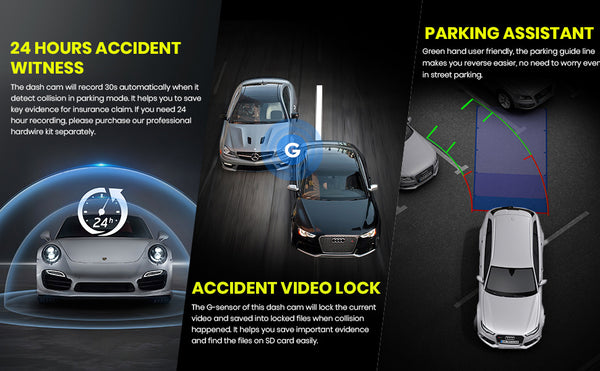 Finally
Having a dash cam in your car can help you feel safer and even have more fun on the road. A dash camera allows you to record road trips and scenic drives, helping you capture memories in a new way. It also provides security by recording your vehicle's surroundings, and it can record the inside of your car. Thus, it can capture first-hand evidence in case someone vandalizes it or tries to steal your car. A car recorder can record what happens during an accident and you can share the footage with your insurance company and other interested parties.
2022 toguard dash camera new release - RM series, which one will you pick?