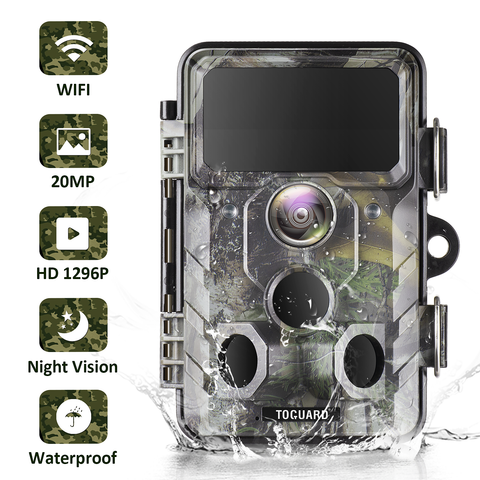 Built-in WiFi function of H85 trail camera lets you adjust the position according to your choice.And Upgraded Bluetooth make it easier to control on/off of the WiFi's turn.
The lens has been changed, the pixels can reach 20MP. 1296P high-resolution video recording and featured with motion-activated 3 sensors, which will help you to record the every moment of real wildlife world when you are away.
With IR Flash 36 pcs 850nm LED lights,it can show night behavior of animals without disturbing them, will never miss a wonderful shot even at night time.
This H85 camera retains date and time settings even during battery changes. Saves on having to re-enter this information.It has long battery life.

PROS:
Easy set-up and operation that can be done without referring to an unusually excellent instruction manual
Solidly built and protected against the elements and damage through dropping or bumping

CONS:
The APP used to connect to wifi is sometimes difficult to connect
Questions & Answers
Question:
How far is the wifi reach with the app? Will metal products interfere with the wifi connection?
Answer:
With full batteries , max range was about 35-40 yards.
Question:
Is the IR no glow or low glow?
Answer:
At night the red leds are pretty bright.  Leds are off when the camera is not taking a picture but  "glow" when taking a picture.
Question:
Do I have to have internet or just a wifi on my phone?
Answer:
No need to connect with internet, just open the trail camera and phone wifi, then connect it on app(WiFi Hunting Camera).